RIO-471xx PLC with Ethernet
Product Announcement from Galil Motion Control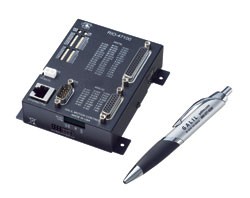 Galil's Pocket PLC is smart, compact, low-cost, and packed with I/O — 32 digital and 16 analog I/O in a 3.9 x 4.3 x 1.3 in. package. Powerful RISC processor for fast I/O handling. Just $295 in single quantity; $195 in 100 quantities. The RIO includes ±10 V analog I/O, program memory with multitasking, PID process control loops, timers, counters, Web interface, e-mail alerts, data logging, Ethernet 100Base-T, and RS232. Network RIOs to handle unlimited I/O. Use intuitive commands or Galil's Ladder Interface Software.
Each RIO-471xx unit is self-contained with numerous analog and digital I/O including: 8 analog inputs, 8 analog outputs, 16 optically isolated inputs, 8 high-power isolated outputs and 8 low-power isolated outputs. Multiple RIO-471xx units can be distributed on an Ethernet network allowing I/O expansion.
Like all Galil controllers, programming the RIO-471xx is simplified with two-letter, intuitive commands and a full set of software tools such as GalilTools for programming, and a Ladder Interface Software tool for converting standard relay ladder logic into Galil code.
Features:
Intelligent, Remote Ethernet I/O Controller


(1) 10/100 Base-T Ethernet port
(1) RS232 port up to 115/19.2 kbaud


8 analog inputs with 12-bit ADC (16-bit option), +/-10V, +/-5V, 0-5V, 010V


8 analog outputs with 12-bit DAC (16-bit option), +/-10V, +/-5V, 0-5V, 010V


16 optically isolated inputs


8 high-power, isolated outputs rated at 500 mA per output


8 isolated outputs rated at 25mA max per output


2 Analog Process Control loops


Multitasking for concurrent execution of up to four application programs.


LED indicators for all digital I/O points


Contains RISC processor and memory for programming I/O events


Easy-to-use, 2-letter Galil programming language


Easy integration with Galil DMC-40x0 motion controller


Web interface and email capability for sending messages


Powered by Power-Over-Ethernet (PoE) or external 18-36V DC input


Small Size: 3.88" x 4.26" x 1.30"


Metal Enclosure


D-type connectors for easy interface to I/O


ModBus/TCP master or slave


Custom hardware and firmware options available
You have successfully added from to your part list.
---