Custom Storage Tanks and Process Tanks
Product Announcement from Garrett Industrial Systems, LLC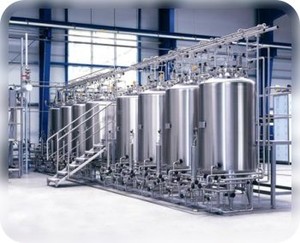 Garrett Industrial Systems, LLC , is a premier supplier of custom manufactured tanks, process vessels, municipal water supply tanks, storage vessels, and UHP reactors in the U.S. We specialize in the supply of vessels of almost every kind, size, and description, in all materials of construction, including carbon steel, stainless steel, special alloys, fiberglass, polyethylenes, thermoplastics, aluminum, and vessels with special linings or coatings such as Teflons, PVDF, rubber, thermoplastics, glass, urethane and phenolics.
We offer size ranges of 5 - 50,000 gallon capacities for transportable (truck) vessels and up to 25 MM gallons for field-erected bolted or welded steel tanks. Our capabilities extend to pressure vessels (ASME Code stamped or non-stamped vessels), reactors with or without specified linings and multiple port configurations, atmospheric storage tanks, process vessels, mixing tanks, fuel tanks, very large chemical and water storage vessels, and unique specialty tanks for almost any application.
Our services include consultation and design, full 2-D and 3-D CAD Drawings, manufacturing, vessel accessories, and much more. We work closely with your team to develop the equipment, coordinate manufacturing and production, expedite to guarantee on-time deliveries, handle packaging and freight related coordination issues with shippers, (if not our own), and solve any special needs you may have regarding your order. Put our team at Garrett Industrial Systems, LLC to work for you.
We offer many custom solutions to fit the needs of our customers.
---