System Controls
Product Announcement from Garrett Industrial Systems, LLC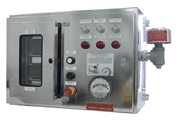 Garrett Industrial Systems, LLC can provide custom-designed and manufactured control cabinets, panels, monitors, and assemblies to provide a complete operational system for controlling tank levels, measuring weights, operation pressure or temperatures, controlling mixers and agitation sequences, filling or emptying tanks and vessels, turning on / off pumps, sending emergency alarms, etc.
Each system can be channeled through one of our customized cabinets or control panels located within your facility to maintain daily operations of your tank system. All systems are housed in customized cabinets or panels that can be indoors or outdoors, self supporting, wall-mounted, or panelized in control rooms and meet all local and national code requirements for electrical and fire/explosion proofing, providing safe operating conditions. Multiple panels can be combined to operate large industrial scale operations.
If preferred, Garrett Industrial Systems, LLC will also work with your local controls installer to provide equipment allowing him to complete control work on your facility. We offer a wide variety of high-quality accessories and equipment for our tank systems and can provide technical information and guidance to help establish and maintain a reliable high-quality controls system."
---