Product Announcement from General Carbide Corporation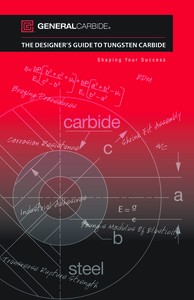 This recently revised and re-written publication is a reference guide for designers, engineers, fabricators and end users of tungsten carbide material. It is a compilation of recommendations derived from practical experience, theoretical stress analysis, proven application engineering practices and modern manufacturing techniques. It will enable the reader to gain insight into how best to utilize one of the most unique engineering materials available today. Please link to this technical article at http://www.generalcarbide.com/technical-articles.php.
It has been said that the tool materials of one generation become the engineering materials of the next generation. This observation is certainly true of tungsten carbide. It is a material that has been around since the early 1920's, replaced tool steel in most cutting tool applications and developed into an engineering material used to resist the harshest environments of corrosion, high temperature, impact, high compressive loads, deformation, and severe abrasion. It competes with advanced ceramics in the wear parts arena but just as tungsten carbide did not totally displace tool steel, advanced ceramics cannot replace tungsten carbide. It exhibits superior toughness given its high hardness. Tungsten carbide has enjoyed tremendous growth as a tooling and engineering material and this manual should provide the designer with recommendations needed on how best to design for success and reliability.
The reference guide covers topics such as the unique physical properties of the material, design recommendations for extreme operating conditions, proven methods of attachment including brazing, mechanical attachment techniques and epoxy adhesive procedures. It also covers finishing techniques including grinding with diamond wheels and electrical discharge machining (EDM) methods and recommendations.
(53 pages, July 2008)

You have successfully added from to your part list.
---