Product Announcement from General Digital Corporation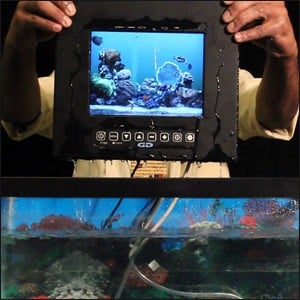 General Digital™ adds an extra level of protection to its rugged LCD monitor line in the form of the Barracuda™ Series. Sealed to IP67 and NEMA4X standards, it includes protection against several contaminants: water immersion (submersion) between 15cm and 1m depth, dust, falling dirt or debris, rain, sleet, snow, splashing water, hose-directed water, and external formation of ice on the enclosure.
The Barracuda™ Series is ideally suited for dusty or wet conditions found in industrial and military environments, such as deserts, ships, outdoor kiosks, or simply constant exposure to changing weather conditions.
Available in display sizes ranging from 6.4 inch to 24 inch, the Barracuda™ Series of LCD monitors can be customized to fit your particular needs.
Please visit our web site or contact a sales engineer for more information.
Sealed Against Liquid Immersion, Dust and Other Contaminants to NEMA-4X and IP67 Specifications
All Connectors Environmentally Sealed, Regardless of Connection
Available in Rack Mount, Panel Mount and Standalone Enclosures
Rugged All-Metal Construction
Turnkey LCD Monitor Ideal for OEMs, System Integrators and VARs
Vibrant, High Resolution LCD Displays from 6.4" to 24.0" (ask about other sizes)
Bezels and Enclosures are Constructed from Sturdy, Lightweight Aluminum
Designed with the Intent to Meet FCC Class A Certification
Accommodates Several Mounting Options
Total Design Control Facilitates Customization
Promotes Configuration Control and Extended Product Life Cycle (OEMs, Military)
Low Power (+12 VDC) Operation
High Performance LCD Controller
Supports Resolutions up to 1920 x 1200 Pixels (Scaled)
Supports Separate, Composite, Sync-on-Green and STANAG 3350 A, B, C SoG Analog Video
Intuitive, Front-Accessible User Controls
Protective Glass Overlay with Sealed Gasket
Optional Support for NTSC, PAL, RS-170, SECAM, and S-Video Composite Live Video
Optional Support for DVI-A (Analog), DVI-D (Digital) and DVI-I (Integrated) Video
Optional Support for HD-SDI (High Definition) and SD-SDI (Standard Definition) Serial Digital Interface Video
Optional Support for HDMI (High Definition Multimedia Interface) Video
Optional Night Vision (NVIS) Goggle Compatibility per MIL-STD-3009
Optional LED Backlight for:
Mercury-free Applications
Daylight/Sunlight Readable Levels of Brightness
Variety of AC Switching and DC-DC Power Supplies Available
Private Labeling Available
Many More Options and Accessories Available
Phone (Domestic & International): 860.282.2900
Toll-Free (U.S. & Canada Only): 800.952.2535
...by the U.S. Coast Guard as Portable Information System Displays on Coast Guard Cutters
...by Joint Armed Forces as Portable Information System Displays on International Law Enforcement Vessels
...within Human Operator and Autonomous Mining Machinery
Read more about the rugged, waterproof and IP67-sealed Barracuda LCD monitor and the sunlight readable Barracuda Solar LCD monitor.
You have successfully added from to your part list.
---