Product Announcement from General Magnaplate Corporation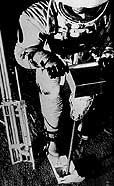 Canadize® Coating for Titanium •Prevents hydrogen absorption when treating titanium •Significantly increases abrasion resistance and wear life by augmenting surface hardness •Creates a permanently dry-lubricated surface, eliminating galling, binding and seizing •Protects substrates from both chemical attack and corrosion
The Canadize process augments surface hardness through the infusion of selected proprietary polymers or dry lubricants resulting in a fracture-free coating for titanium and titanium alloys.
Specifications:
Hardness/Wear & Abrasion - Up to Rc 55.
Friction Properties - Coefficient Of Friction: as coated 0.15. With dry film lubricants, as low as 0.04. Can also be combined with proprietary polymers.
Temperatures - Operating Range: -200° to +1,200° F without top coating. Otherwise, maximum of +550° F with supplementary surface coating.
Corrosion Resistance - Titanium's natural resistance to corrosion is enhanced by the CANADIZE process.
Thickness - Range: 0.0001" to 0.0005".
Applications:
Titanium 6AL4V produces the best oxide coating. Augments surface hardness, eliminates galling, binding and seizing, and does not absorb hydrogen during processing. Provides permanent dry lubricity. Used extensively on aerospace and aircraft components.
You have successfully added from to your part list.
---