Counter Balanced Blocks and Readout Display
Product Announcement from General Oceanics, Inc.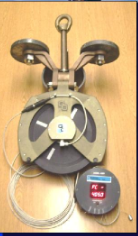 General Oceanics is dedicated to the engineering and manufacturing of water and air sampling and analysis products, and the provision of services, to accommodate your analysis and research needs.
The 4000 series Counter Balanced Blocks utilize a weight which is counterbalanced above the pivot point. The cable exerts only a slight force for the sheave to remain co-planar with the bisected cable, regardless of ship roll, pitch, yaw and trawling operations. On standard blocks, further cable protection is provided by a cable guard. This ensures positive cable entrapment during times of slack cable. Sensing and display electronics measure cable payout and rate. As cable is run over the sheave, solid state magnetic switches sense the speed and direction of the sheave's rotation. These signals are processed by solid-state microprocessor-based circuitry. "Fairlead Blocks" are designed and manufactured the same as counterbalanced blocks without the counter-balance feature.4000 Counter-Balanced Blocks:
The block weight is counterbalanced with weight above the pivot point
Positive cable entrampement during times of slack cable
1/2m, 1m, 1.5m and 2m diameter custom goove radius
Nylatron sheaves narrow or wide
Light weight and strong
Light or heavy duty load ratings
Instrumented or non-instrumented
4050 Block Readout Display:
cable in/out display plus rate (derived magnetic snesors from block)
wire tension display (when interfaced to a wire tension measuremetn device
Cable in warning alarm, max. lowering and hauling rate alarm (user defined)
4 hour bttery only operation, real time clock
LED digits - legible in full sunlight
Operating range -25C to -70C
You have successfully added from to your part list.
---