Idronaut Ocean Seven- 304 CTD Logger
Product Announcement from General Oceanics, Inc.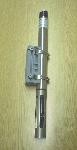 The OCEAN SEVEN 304 CTD, completes the line of high quality and accuracy IORONAUT OCEAN SEVEN CTOs, fulfilling the demand for a high performance CTD probe with very small diameter and extremely low power consumption. This CTD can be easily integrated/adapted to third-party systems like floating profilers and/or buoy-moored systems. The 304 CTD standard interface is RS232C; other interfaces like: TTL, RS422 and Wireless Bluetooth® can be optionally installed.
The 304 CTD offers a combination of 16-bit high resolution data accuracy, with long-term sensor stability, making this CTD the best choice for both on-line profiling and self-recording moored applications. The CTD uses state-of-the-art electronics and is equipped with a 128-Mbyte logging memory. Moreover, the user can select the proper conductivity range: for salt or fresh water, making this CTD a very advanced tool for sampling sites near shore influenced by fresh water inlets, or/and for groundwater profiling and monitoring applications.
---