Intelligent Rosette Water Sampling System
Product Announcement from General Oceanics, Inc.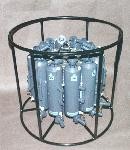 The G.O. Intelligent Rosette® system has a new and innovative bottle tripping mechanism. The trigger mechanism has been improved and simplified to allow continuous operation without the previously required alignment and adjustment. This coupled with the redesign lanyard loading and tripping mechanism allows for simple and positive activation.
The unit may be triggered sequentially or randomly allowing user selection of the sampler to be activated. The Intelligent Rosette® can activate up to 36 individual water bottles; The system includes menu selectable, command interfaced software. Models 1016-12, and 1016-24 accommodates 12 or 24 water bottles, from 1.2 to 30 liter capacity. Model 1016-36 accommodates 36 water bottles, from 1.2 to 12 liter capacity.The 1016 Intelligent Rosette® can be operated independently or in conjunction with STD and CTD systems without data interruption. Water bottles used on the Intelligent Rosette® may be fitted with M1000-3 or M1000-4 reversing thermometer assemblies.
PRICE INCLUDES SUBMERSIBLE ARRAY, HANGER MOUNT STAND, ADAPTOR PLATES, FULL PROTECTION RING, RECHARGEABLE BATTERY PACK, INTERCONNECTING CABLE, OPERATIONS MANUAL
---