Model 1010 Niskin Water Sampler
Product Announcement from General Oceanics, Inc.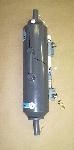 Non-metallic free-flushing sampling bottles activated by GO Devil messenger (1000-MG) when individually or serially attached to hydrocable. Sequential closure by remote command with model 1015 Rosette® multibottle array, or with model AR1015 Acoustic Command Control option.
Specifications:
MOUNTING: Cable clamps on 1.2- to 12-liter bottles are for cable diameters up to and including 6.4mm (1/4"). Clamps on larger bottles are for diameters up to and including 8.0mm (5/16").
MATERIAL: Non-metallic construction of PVC tube section, end stoppers, handles and cable clamp blocks (aluminum on 30-liter bottle). Delrin stopcocks, air vent screws and push rod. Stainless steel cable clamps. End stopper closure band of latex tubing. Buna-N a-ring seals (other materials available). Nylon monofilament lanyards.
END CLOSURE: Stopper with spherical section sealing surface held firmly against a-ring seal by internal latex tubing.
DRAINAGE: Thumbscrew air vent at top. Stopcock at base: 4.7mm (.187") diameter, except for 20- and 30-liters bottles, which have a second, larger basal stopcock (9.52mm, .375mm) for rapid drainage.
OPTIONAL: Teflon coating, stainless steel springs with Teflon or epoxy coating.
Standard order includes bottle, clamp bolts for attachment on cable (see overleaf) and mounting block to attach to Rosette® multi bottle array. Specify bottle size. Order messenger additionally. Order thermometer-reversing assemblies additionally. Order teflon coating additionally. Latex tubing is the standard bottle-closing mechanism: stainless steel spring (teflon or polyester resin coating) is optional.
COMPONENTS AND ACCESSORIES: 3- and 4-thermometer-reversing assemblies. See below.Niskin model 1010 bottle repair kit containing end plug stopcock assembly, air vent screw, latex tubing, cable clamp, PVC cement, O-rings, 2 stainless steel clamps (not in 20- and 30-liter kits), brass snap, Nicropress clamps, misc. hardware. Specify bottle capacity when ordering kit.Niskin model 1010 bottle O-ring kits. Specify bottle capacity.Other parts and assemblies available additionally.
---