Product Announcement from General Plastics Manufacturing Co.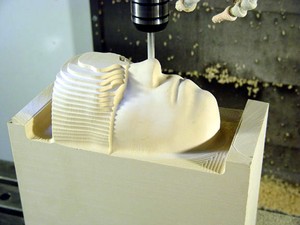 Prototypes and Models-Products FR-4500 and FR-7100 Whether you are building a sports car, topographical map, movie props and sculptures, LAST-A-FOAM® has proven to be a stable and precise material for the design engineer.
With a superior, fine-cell structure the high-density polyurethane FR-4500 allows for easy finishing with almost any coating system. This foam can also be bonded with a wide variety of adhesive systems. Available in densities up to 50 lbs per cubic foot, thus allowing users to match the right material to job requirements while controlling costs. Additionally, each density is color coded for easy identification. Its higher heat-deflection temperature rating makes it suitable for use in vacuum-forming applications where other urethane products may soften or deform.
Product Features and Benefits:
Special formulation allows creation of shavings when material is machined
Anti-static additive causes shavings and particles to fall to floor - no dust in the air!
Excellent consistency and uniformity throughout entire mass of material
Fine cell-structure allows easy finishing with almost any resin or coating system
No glass-bead fillers to damage cutting tools - this material cuts with HSS cutters!
Dimensional stability
No warp or bow in sheets
Large sheets (up to 48" x 96"), thick sheets (up to 22") available
Multiple densities available, up to 50 lbs. per cubic Ft. - match the right density to the job
Each density is color-coded for easy identification
Common Applications:
Master models
Mold and foundry patterns
Composite Tooling
For more information please see the FR-4500 Material Safety Data Sheet (MSDS), Technical Data Sheets (TDS) for specific densities, and the FR-4500 product data sheet.
This polyurethane foam is great for applications where an economical, versatile, and stable stock material is desired.
Product Features and Benefits:
Fine cell structure
Closed-cell
Easily painted and bonded
Dimensionally stable
Grain-free
Easily shaped with a variety of cutting processes
Densities available from 4 - 40 lbs per cubic Ft.
Common Applications:
Proofing NC/CNC machine programs
Prototype models
Composite core
Marine: Stringers, bulkeads, mounting pads, heads, and galleys
Solar: panel backing and support, parabolic mirror farms
Custom parts
Tooling board
Composite Core
LAST-A-FOAM® FR-7100 can be used with multiple densities. There can be high and low densities in one layup, making it an ideal material for composite layups. In addition, this product is available in sheet stock and there is no mold-release in GP's sheet stock manufacturing process.
Marine
LAST-A-FOAM® FR-7100 is formulated to meet the demands of composite boat builders at competitive prices. For Stringers, we recommend the FR-7100 in 6-20 lb per cubic foot densities depending on structural need. For seat mounting pads and steering wheel mounting, we recommend 24-30 lb per cubic foot densities. Lastly, for decks and bulkheads, we recommend 10-15 lb densities of the FR-7100 foam.
Prototypes and Models
LAST-A-FOAM® FR-7100 is an economical polyurethane foam made in 4-40 lb densities. This foam is suitable for hand-carved models, CNC-machined topographical maps, prototypes, industrial patterns, and more. FR-7100 is made in more densities than any other product we offer and large block sizes are available.
Tooling and Molds
LAST-A-FOAM® FR-7100 products have been used sucessfully in tooling applications for many years. This material meets the needs of mold and tool makers because of it's stress free, easy to machine, and has constant density throughout thickness. Generally speaking, if higher strength, greater detail, or increased heat and pressure resistance at process tempeature is rquired, the FR-7100 performs best at a 20 lb per cubic foot density. Typical uses include: composite lay-up tools, drape-forming tools, and vacuum-form tools.
For more information please see the FR-7100 Material Safety Data Sheet (MSDS), Technical Data Sheet (TDS) for specific densities, and the FR-7100 product data sheet.
We are experts at meeting demanding LAST-A-FOAM® application requirements. We have pattern and tooling capability, and accept customer-supplied CAD data. We also have broad CNC capability to make parts fitting your requirements.
Turn to the company where great ideas take shape.
For more than 70 years, General Plastics has been a leading innovator in the plastics industry. We specialize in developing unique polyurethane, chemistry-based solutions, centered on our signature LAST-A-FOAM® rigid foam and board, and on our flexible foam. We support engineers and design teams in diverse industries with unrivaled formulations and high-quality materials for the most demanding product applications. Our customer service, engineering and CNC teams work closely with you from concept to completion. General Plastics is certified to ISO 9001:2008/AS9100C and meets such demanding quality systems as NQA-1, MIL-I-45208A and Boeing Company D6-82479.
Looking for a specific application? Our product finder tool will help you narrow down your search. Simply select your industry. It will then prompt you to choose the application within the industry. After you have made your selection, you will be given a list of products best suited for that application
In addition to producing specialized LAST-A-FOAM® rigid and flexible polyurethane foam sheets, General Plastics Manufacturing Company also molds, fabricates and assembles parts and assemblies. We supply machined and fabricated items for a diverse range of demanding commercial, industrial, military and composite-manufacturing customers. We also have a variety of special processes available to customers. These services include custom foam-formulation for specific applications, and special testing and material-characterization services.
Markets:
Knowledge Center:
You have successfully added from to your part list.
---