Column bearing blocks support structure loads
Product Announcement from General Plastics Manufacturing Co.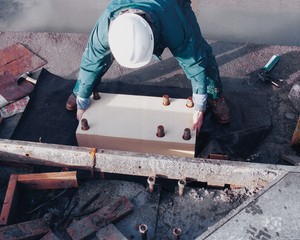 Cold Storage Construction Column Bearing Blocks-Products R-9300
General Plastics R-9300 Thermal Isolation Blocks series are a high-density cellular polyurethane material. They are designed to support heavy structural loads while insulating a building interior from the external elements. They are commonly used as column bearing blocks for cold storage facilities.
The R-9300 Thermal Isolation block is a high-density rigid cellular polyurethane material designed to support heavy structural loads while insulating a building interior from the supporting ground. Cellular polyurethane is a naturul insulator and even at the high densities needed for support of roof-column loads, R-9300 will provide thermal insualation value superior to lightweight concrete, treated wood blocks, and other materials typically used in this application.
Typical applications of this material include use as a thermal isolation load-bearing block in concrete footings for roof-column supports in refrigerated warehouse structures. The high-density of this cellular polyurethane material gives it strength to support large compressive loads with little deflection. Each lot of R-9300 material is tested and certified for its compressive-strength.
Product Features:
Blocks are custom-cut, with pre-drilled anchor bolt holes
Will not rot or dissolve in sub-grade applications
Does not release any chemical compounds into surrounding soil
Cellular polyurethane is a natural insulator
Delivered as a fully-cured, ready to use material, there is no waiting before moving on to the next construction step, saving precious time
Short-circuits energy transfer to cooler/warmer earth at foundation
High compressive strength to support roof-column loads
Closed-cell material will not absorb liquid water
Will not support insects or vermin
Compatible with grouts, adhesives, concrete; Will not promote steel corrosion
Standard blocks are single-piece, with no adhesive joints
Blocks are custom-cut, with anchor-bolt holes pre-drilled, if desired
Standard R-9300 blocks are available in 30 (R-9330), 35 (R-9335), and 40 (R-9340) pound-per-cubic-foot densities
R-9330 blocks are certified to support compressive loads up to 1,000 psi at 2% deflection. R-9335 and R-9340 blocks will support higher loads at similar 2% deflection
Turn to the company where great ideas take shape.
For more than 70 years, General Plastics has been a leading innovator in the plastics industry. We specialize in developing unique polyurethane, chemistry-based solutions, centered on our signature LAST-A-FOAM® rigid foam and board, and on our flexible foam. We support engineers and design teams in diverse industries with unrivaled formulations and high-quality materials for the most demanding product applications. Our customer service, engineering and CNC teams work closely with you from concept to completion. General Plastics is certified to ISO 9001:2008/AS9100C and meets such demanding quality systems as NQA-1, MIL-I-45208A and Boeing Company D6-82479.
Looking for a specific application? Our product finder tool will help you narrow down your search. Simply select your industry. It will then prompt you to choose the application within the industry. After you have made your selection, you will be given a list of products best suited for that application
In addition to producing specialized LAST-A-FOAM® rigid and flexible polyurethane foam sheets, General Plastics Manufacturing Company also molds, fabricates and assembles parts and assemblies. We supply machined and fabricated items for a diverse range of demanding commercial, industrial, military and composite-manufacturing customers. We also have a variety of special processes available to customers. These services include custom foam-formulation for specific applications, and special testing and material-characterization services.
Markets:
Knowledge Center:
---