Fine-cell foams for topographical models and maps
Product Announcement from General Plastics Manufacturing Co.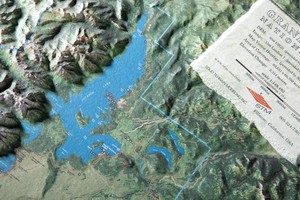 LAST-A-FOAM® used for topographical models and maps throughout the world.Topographers enjoy the consistent cell-structure and density of the FR-4500 and FR-7100 foam boards, which makes cutting their models with CNC routers simple and accurate. The fine small cells allow easy paint finishing of completed models, and the dimensional stability of sheets keep models flat and true. Valued in notable institutions worldwide helping people to see and understand topography in a direct and reliable way.
Turn to the company where great ideas take shape.
General Plastics Manufacturing Company has three products lines: rigid foam, flexible foam, and production parts.
Rigid foam is used for composite core, tools, models, and signs.
Flexible foams are for applications where energy absorption, fire retardancy, appearance, and versatility are important.
Production parts are build-to-print composite parts for the military, aerospace, and transportation industries.
We work alongside our customers to find the best product for their needs.
Aircraft manufacturers have counted on General Plastics Manufacturing Company since the 1950s. We manufacture LAST-A-FOAM® high performance polyurethane foam. LAST-A-FOAM® is the foundation for the flight deck and interior parts that are used on today's commercial and military aircraft. In addition to aerospace, General Plastics also serves the following markets:
The BLAST TAMER® is a wall system that incorporates advanced technology polyurethane foam designed to mitigate inadvertent explosion in ordnance storage facilities. General Plastics is experienced in building and designing these explosion protection systems. These systems are currently in-use in the United States.
From the impact resistance required for a hockey stick blade to the durability of a wing tip, General Plastics' LAST-A-FOAM® can provide a high-strength, low-weight solution for your manufacturing process. Whether you need board stock or machined parts, we can meet your exacting specifications.
General Plastics R-9300 Thermal Isolation Blocks are a high-density cellular polyurethane material. They are designed to support heavy structural loads while insulating a building interior from the external elements. They are commonly used as column bearing blocks for storage facilities.
General Plastics LAST-A-FOAM® allows boat builders to replace wood components with non-decaying products that are fully compatible with fiberglass laminating production methods. It is specifically formulated to meet the demanding requirements of the boating industr
Specially engineered General Plastics' LAST-A-FOAM® is ideal for use with medical imaging equipment. LAST-A-FOAM® has also been uniquely designed to mimic human bone densities.
General Plastics' Manufacturing Company has been the leader in crash and fire protection for nuclear transportation packages for over 40 years. LAST-A-FOAM®'s proven impact resistance combined with its fire protection properties makes it the ideal material for protecting radioactive cargo.
General Plastics is where great ideas take shape. Whether you are building a sports car or a topographical map, LAST-A-FOAM® has proven to be a stable and precise material. Please see the Tooling and Bonding Guide for more information.
General Plastics high-density urethane (HDU) foam is the leading choice to replace wood in sign manufacturing. Its ease of machining makes it the ideal material for artists and its long-term durability allows it to withstand harsh climates.
General Plastics LAST-A-FOAM® has been engineered to provide a structural backing for solar panels. LAST-A-FOAM® can provide long-term durability, structural strength and rigidity for optical clarity of solar panels. The strength to weight ration makes LAST-A-FOAM® ideal for solar panel installation.
General Plastics LAST-A-FOAM® has been a dependable source for tool-makers for over 40 years. From low-temperature layup applications to high-temperature autoclave (420°F), we can provide a tooling board to meet your needs.
Our Vision:
To be the natural choice of our customers, attract new customers, and maintain dominance in our chosen markets by providing the best value in unique cellular materials. We shall achieve growth by applying our skills and technologies into the creation of innovative, engineered products that will attract and retain the best customers.
Our Mission:
We achieve our vision by making state-of-the-art LAST-A-FOAM® and other specialty plastic products, and by focusing on the expectations of our customers and the needs of our employees.
Whether testing our own polyurethane foam products, advanced composite materials, or sample designs/ assemblies provided by a client, reliable test results are essential. General Plastics consistently follows well-defined procedures that represent industry best practices and the ongoing refinement of internally developed techniques.
We have seven decades of experience performing quality assurance to the most exacting standards for our own products. Consistent performance - coupled with our ability to navigate myriad test methods, specifications and customer requirements - have made General Plastics a recognized center of excellence for physical property and flammability testing.
Certifications:
General Plastics' extensive quality assurance program satisfies the demanding requirements of the aerospace industry, the Nuclear Regulatory Commission and the U.S. Department of Defense. We earned FAA approval of our burn-test facilities in 2010. General Plastics is certified to ISO 9001:2008/AS9100C. It meets such exacting quality systems as:
• NQA-1
• Mil-I-45208A
• Boeing Company D6-82479
You have successfully added from to your part list.
---