Product Announcement from Genteq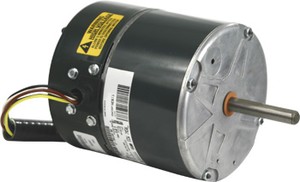 ECM 142R is the next generation of high-efficiency, fractional-horsepower outdoor motors. 142R is ideally suited to outdoor applications such as split system outdoor units, package units, or any other prop fan air-moving that requires a 1/5, 1/3, 1/2 or 3/4 horsepower, 300-1200 RPM motor. Side-by-side with an induction motor, the new ECM uses 20% less power.
This generation of ECM combines over 20 years of development in residential HVAC and many millions of field installations, creating a motor with warranty return rates low enough to rival conventional permanent-split capacitor (PSC) motors. ECM 142R also features speed ramping for decreased fan noise, BlaKBox™ Diagnostics for reporting field data back to manufacturers, and a PSC-like speed-tap interface that service technicians have been using for years.
ECM 142R maintains its high efficiency across a range of operating speeds, which results in a significant reduction in energy use when the motor is run at reduced speeds. This makes the 142R ideal for use in creating two-stage outdoor compressors and heat pump-type units. In addition to reducing electrical use, two-stage compressors feature enhanced humidity removal, less temperature swing between cycles, more even temperatures throughout the home, and quieter equipment operation (especially when combined with a fully-variable ECM ThinkTank™ indoor blower motor). To find out more about these systems, visit GenteqComfort.com.
Features
Speed ramping for decreased fan noise
BlakBox Diagnostics for reporting field data back to manufacturers
Benefits
Reduced electrical use
Reduced temperature swing between cycles
Quiet operation
You have successfully added from to your part list.
---