Weldmax 350 Microwelder for Mold Repair
Product Announcement from Gesswein Co., Inc.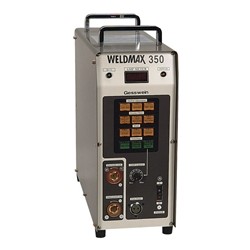 Increase mold life and reduce repair costs dramatically. This powerful microwelder allows you to repair all forms of minor mold damage quickly and easily. Uses short, controlled amperage discharges to weld metal powder, sheet or wire to molds. Produces strong, homogeneous welds, even under difficult working conditions.

Features two welding functions: standard for small welds and precision for tiny welds. Includes three push-button output selections and six push-button material selections for automatic welding, as well as override option for manual welding, which lets you fine-tune pulse frequency and output current.

Weldmax 350 emits no heat beyond the repair area, so it causes no metal stress, distortion or shrinkage. Minimizes weld material consumption to reduce final finishing time. Works best with gentle electrode pressure, discouraging the formation of cavities and pinholes. Produces clean welds that will not scale or flake. Eliminates the need for other types of welders (e.g., argon and laser welders). Gives off no harmful fumes. Requires no special training to operate.

Welds all steels and stainless steels, as well as other ferrous metals. Will not weld aluminum. Suitable for use on molds and dies for plastics and rubber, die-casting molds and compression molds. Not recommended for use on press dies.

Weldmax 350 includes:
Power Pack and Cord
On/Off Foot Switch
Grounding Cord and Electrode Holder Cord, 6-1/2' each
Replacement Fuse, 2A
Copper Grounding Plate, 2 x 20 x 100mm
Safety Goggles and Gloves
Screw and Wrench Set
Sheet Metal Shears
Masking Tape
Tool Box
Magnetic Electrodes: ø 2 x 50, 3 x 50, 4 x 50, 4 x 60mm
Nonmagnetic Electrodes: ø 2 x 50, 3 x 50, 4 x 50, flat 1.2 x 5 x 35mm
Brown Holders for ø 2, 3, 4mm magnetic electrodes
Black Holders for ø 2, 3, 4, 5mm and flat 1.2 x 5 x 35mm nonmagnetic electrodes
Insert Collet for ø 5mm nonmagnetic electrode holder (for holding flat 1.2 x 5 x 35mm electrode)
Metal Welding Powders (40 grams each):

N51 (Hardened SKH51, HRC 63);

N80 (Prehardened NAK80/PHM50, HRC 38-40)

Metal Welding Sheets and Strips (10 pieces each):

NTA1 (Ni Alloy, HV 135), 0.1 x 30 x 70mm;

NTA2 (Ni Alloy, HV 135), 0.2 x 30 x 70mm;

NAK80 (NAK80, HRC 38-40), 0.1 x 5 x 100mm
You have successfully added from to your part list.
---