Nickel & Platinum ICP-MS Interface Cones
Product Announcement from Glass Expansion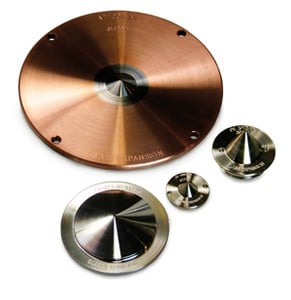 Glass Expansion has over 20 years of experience in manufacturing ICP-MS sample introduction components and has earned a world-wide reputation for quality and reliability. We manufacture ICP-MS cones to the same exacting standards as all of our products and they are guaranteed to perform to your satisfaction. Our manufacturing plant includes four CNC machines and an electron beam welder and is the best equipped and best qualified cone machining plant in the world. We supply cones for all of the popular ICP-MS models including the Agilent 7500 and 7700, the PerkinElmer Elan and NexION, and the Thermo Fisher X Series and Element. To make sure you get all the support you need, we have a staff of technical experts and a fully equipped ICP-MS laboratory for testing and evaluation.
No-Risk Guarantee
As with all of our products, our cones are backed by our complete satisfaction guarantee. If for any reason, you are not 100% satisfied, you can return the cones for full credit or refund.
Free Refurbishment
Extend the life of your platinum cones with our free refurbishment program. Platinum cones have a much longer life than nickel cones but they do deteriorate over time. In many cases, a platinum cone can be refurbished multiple times and its lifetime greatly extended. As a customer service, Glass Expansion will refurbish your platinum cones free-of-charge, even if you did not purchase them from us.
Platinum Reclaim
If your platinum cone cannot be refurbished, we will provide a rebate for the value of platinum in the cone.
Contact us at enquiries@geicp.com to check the availability of cones for your ICP-MS model.
Customer comments
Thank you so much for repairing our 2 skimmer cones. I was so happy when I received those two repaired skimmers, shiny like brand new. Thank you!! Everyone in the lab actually impressed by the work and this service. We all think this service deserve a star, and a thanks card.
Clinical laboratory - Australia
---