TruFlo Sample Uptake Monitor
Product Announcement from Glass Expansion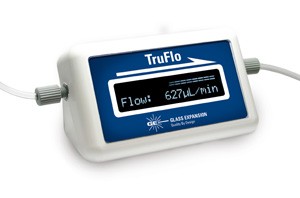 Continuous real-time flow measurement. Eliminates guess work. Sounds an out-of-range alarm. Reduces sample repeats. Ideal for sample introduction by peristaltic pump or natural aspiration. Suitable for all ICP-OES and ICP-MS models.
Do you ever need to repeat the analysis of a sample due to:
• A blocked nebulizer?
• Worn peristaltic tubing?
• Incorrect pressure of the pump tubing clamp?
With the digital display of the TruFlo Sample Monitor, you always know the actual rate of sample uptake to your nebulizer. This enhances the day-to-day reproducibility of your results and reduces the need to repeat measurements due to a blocked nebulizer, worn pump tubing or incorrect clamping of the pump tube. And the borosilicate glass sample path ensures that there is no memory effect or sample contamination. The TruFlo can even sound an alarm if the sample uptake is outside your specified limits.
The TruFlo is also ideal if you are relying on the natural aspiration of the nebulizer. Many operators, particularly of ICP-MS, use natural aspiration in order to eliminate the effect of peristaltic pump noise from their measurements. With the TruFlo, you always know what your sample uptake is and you can take immediate corrective action if there is any change. You can also record your sample flow so that you can check that you are using the same flow from day to day.
---