Product Announcement from Glenro Inc.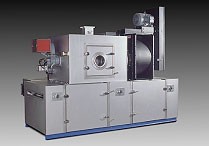 Convection System Designs
Impingement
• Single Side
• Dual Side
• Horizontal, Vertical or Arched
• Conveyorized
Flotation
• Low Tension
• High Tension
Through-Air
Counter Flow
Batch
Heating Methods
Electric
Natural Gas
Steam
Fuel Oil
Hot Water
Heat Recovery
Integrating Technologies
Radiation & Convection
Convection & Conduction
Radiation & Convection & Conduction
Impingement dryer designs are common for many web and fabric drying applications. Unfortunately, many of these applications are handicapped by less effective nozzle designs. Glenro offers the process experience, engineering capabilities and testing facilities to maximize the drying performance of this type of hot air system solution for your application.
Flotation dryers are ideal for applications where the web is coated on both sides, or for delicate webs that cannot be mechanically supported. Flotation dryers direct heated air at the product from both sides, producing more effective heat transfer rates per running length of dryer. The specially designed nozzles support the product on a bed of air, thus the term "flotation". As with any application you bring to our attention, Glenro will apply its process experience as we evaluate your performance criteria and the physical characteristics of the materials to be heated to form the basis of any system recommendation.
Through-air dryers remove water or solvents from air-permeable products by uniformly transporting heated air through the entire thickness of the product. This technique creates exceptionally high heat transfer rates. Through-air design is ideal for rapid drying of porous products such as nonwovens, fabrics and fibers. Through-air is also a good choice for curing, heatsetting or thermal bonding similar products.
You have successfully added from to your part list.
---