Surface Coating and Treatment of PCBs
Product Announcement from Glenro Inc.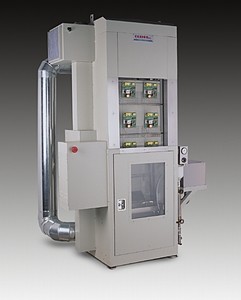 The automated equipment line features standard machines, as well as custom designed units that feature alternative coating and/or drying techniques. Whether you are processing 2-part, acrylic, silicone, polyurethane or 100% solids conformal coatings; Glenro has Proven Solutions® that are right for your application.
System Benefits
Single operator
Reduced product handling
Repeatable, high-quality coating application
Uniform drying
High through-put
Bench Model Dip Coating & Drying Systems
Glenro Bench Model Dip Coaters provide controlled immersion and withdrawal speeds of printed circuit boards into and out of a tank filled with conformal coating. The compact size and low-cost of the system make it ideal for short runs and laboratories.
The conformal coating gets under the components, not just on top, for high quality encapsulation. The coating thickness can be easily controlled by adjusting the withdrawal rate and the viscosity of the coating. A recirculation-filtration system to keep dust and other foreign materials out of the coating is available. Glenro bench model dip coaters are designed for lower volume applications where larger, automated coating systems are not economically justified.
Conveyorized Dip Station and Control - The conveyor consists of a direct drive, variable speed motor and roller chain conveyor with a stainless steel cross bar. Two different models are available:
Constant Immersion and Withdrawal Speed
Independent Immersion and Withdrawal Speeds with Dwell Timer
Dip Tank - The dip tank is constructed of 304 stainless steel. The slanted top design prevents the parts from rubbing against the sides when withdrawn. Inlet and outlet connections for the recirculation-filtration system are provided. A dip tank cover, designed to keep the contents of the tank clean and retard evaporation, is also available.
Work Table - The top of the work table is constructed of stainless steel. The table has a tubular steel frame, legs and casters to allow easy movement, and an opening to insert the dip tank.
Glenro's carousel conveyorized infrared system dries conformal coatings on printed circuit boards. The infrared heat offers high speed, uniform drying of coatings. The compact size makes it ideal for use with the bench model dip coaters inside laboratories, or for short runs and small job-shop applications. Easy to use and reliable controls enable you to set the right combination of conveyor speed and heater temperature for each job.
The infrared dryer is easy to use and can be operated by one person. The operator simply takes the printed circuit boards from the coating station and hangs them on the conveyor. The conveyor carries the product through the dryer at a controlled rate. The coating on both sides dries at the same time.
Glenro uses our Radplane® Series 36 ceramic face infrared heaters in the heating section of the Bench Model Infrared Dryer to dry the conformal coatings by non-contact radiation heat transfer. Zoned temperature control and a thermocouple feedback loop deliver precise temperature control to prevent overheating.
Standard Automated Dip Coating & Drying Systems
Glenro designs and manufactures conveyorized machines that vertically dip coat and submerge printed circuit boards into protective conformal coatings and then dry the coatings. One machine: one continuous process: one operator.
Two standard machine designs are available:
Dip Coating versus Spray Coating
Dip coating both sides of the product at the same time promotes high-quality encapsulation of the components and increases through-put. Dip coating eliminates the need for complicated material handling systems, multiple operators, and avoids the high maintenance of spray coating equipment. End users are attracted to the idea of dip coating their boards, as compared to spray coating because dip coating reduces the overall cost of manufacturing. Very little coating is wasted and specified coating thicknesses required to protect the boards against the end-use environment in which they are designed to operate can be applied and dried in one pass through the machine. Dip coating with set-point viscosity control puts the user back in control of the commercially available conformal coatings and allows operators to extend the coverage areas per gallon purchased.
Standard Features
Preassembled & Wired
Stainless Steel Dip Tank, overflow reservoir, liquid level control to +/-50 mils
Recirculation-Filtration System, to maintain the quality of the coating
Supply and Exhaust Air Ventilation, to maintain a safe operation
Speed Controlled Driven Conveyor, with cross bars to hang the work
Low Temperature, Uniform Infrared Dryer
Control System
Optional Features
Controlling Viscometer
Fire Suppression System
Nitrogen Purge Blanket
Custom
If one of our standard conformal coating machines (models 4124 and 4246) does not meet your needs, Glenro can design and manufacture a custom conformal coating machine for your application.
Typical Custom Features:
· Hot Air Drying System
· Single Side Coating Application
· Special Fixtures & Material Handling Equipment
· PLC Based Control System
Automated Machine with Hot Air Drying System
Automated Machine with Single Side Coating Application
Automated Machine with Hot Air Dryer & PLC Based Control System
You have successfully added from to your part list.
---