Product Announcement from Glenro Inc.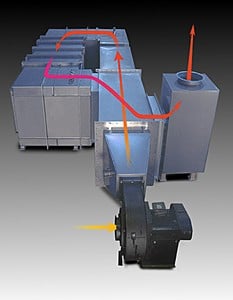 When a thermal oxidizer is required to prevent the emission of hydrocarbon solvent vapors (VOCs) into the atmosphere, we also look for ways to recover as much energy as possible and redirect it to the manufacturing process. By coupling our oxidizers to our process drying or curing systems, CO2 emissions are significantly reduced.
Waste Heat Boilers (Steam)
Waste Heat Generators (Electricity)
Air to Air Heat Exchangers (Process and Comfort Heat)
Air to Water Heat Exchangers (Hot Water)
These are examples of green technologies that can increase product margins by reducing manufacturing costs while protecting the environment.
Guaranteed Oxidizer Performance
Each Glenro system comes with a guaranteed destruction performance when operated in accordance with the defined process criteria.
Process Dryer and Thermal Oxidizer Integrated Designs
Solvent based process heating applications can be serviced by a Glenro Integrated Energy Delivery® System. Three principle systems working together comprise the solution.
Process Heating System
Thermal Oxidation System
Heat Recovery System(s)
Glenro's experience will effectively combine these technologies and present a complete process solution that can increase product margins by reducing the overall cost of operation.
One advantage of working with Glenro is that you capture our process experience for your heating application which will result in the best available technology for your product manufacturing line. Once done, our control technologies will be designed to minimize the operating costs of the abatement process. Lastly, the remaining energy made available by our efficient process heating and oxidizer designs can service other energy demands inside your facility.
Recuperative Thermal Oxidizers
For applications where VOC concentration levels in the process exhaust is relatively high and secondary heat recovery is viable, Glenro usually recommends recuperative thermal fume oxidizers. This oxidizer design is also a good choice if process air flows and solvents vary. Because they are designed for minimum fuel consumption with exhaust heat recuperation, direct fired thermal oxidizers have the potential to provide outstanding destruction efficiencies (typically 95% to 98%) at a reasonable operating cost and provide substantial energy for use with secondary heat recovery technologies to service other processes and applications elsewhere in the facility.
Integrated Energy Delivery® System with Recuperative Thermal Oxidizer
Recuperative Catalytic Oxidizers
For certain applications, Glenro recommends the use of a catalytic oxidizer to achieve the required VOC abatement. The use of a catalyst causes the oxidation reaction to occur many times faster than thermal conversion and at much lower temperatures. This means that the catalytic oxidizer will be smaller in size and will generally have a lower initial cost and operating cost as compared to a recuperative thermal oxidizer. Glenro engineers these systems for maximum efficiency and lowers operating costs by integrating primary and secondary heat recovery technologies.
Integrated Energy Delivery® System with Recuperative Catalytic Oxidizer
You have successfully added from to your part list.
---