Product Announcement from Glenro Inc.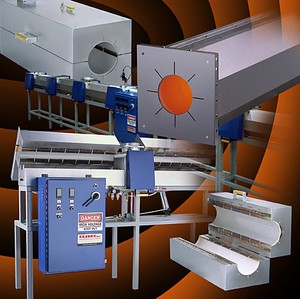 The energy not directly absorbed by the small target products is reabsorbed by the quartz radiating face of the heater, helping to maintain operating temperature set points with less energy. For some applications requiring faster heater response, an open element design is available.
System Design Considerations
Horizontal, Vertical or Conveyorized
Solid Core, Slotted Keyhole, Split-Case or Open Element Heater Selections
1.5" to 20" Diameter
Integrated Energy Sources
Flexible Access
Manual or Automated Retraction Equipment
Product Support/Exhaust Air Vestibules
Process Temperature Control
Wire, Cable & Fiber Optic System Applications
Heat FEP extrusion on wire
Sinter PTFE cable wrap on multi-conductor wire
Dry/Cure striping and nomenclature ink on insulated wire
Dry/Cure color coding inks on fiber optics
Preheating wire before extrusion
Dry graphite coatings on spark plug wire
Sinter fluoropolymer resins on high temperature wire
Dry lacquer on braided insulated wire
...and many more.
Tubing & Extruded Product System Applications
Sinter extruded tubing
Cure extruded silicone tubing
Preheat tubing prior to convoluting
Preheat wire prior to fluoropolymer extrusion
Heat-shrink tubing
Dry/Sinter PTFE dispersion coatings on glass braided tubing for automotive fuel lines
Dry/Cure saturants (latex, acrylic, urethane) on fiberglass sleeving (dielectric sleeving)
Singe/Heat-clean fiberglass before coating
Fuse PVC coatings on fiberglass sleeving
Heat-shrink tubing on catheters
...and many more
You have successfully added from to your part list.
---