Marlotherm® SH Heat Transfer Fluid
Product Announcement from Global Group of Companies (The)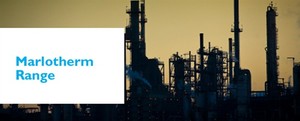 High Performance Heat Transfer Fluid
Operating Temperature
-5°C - 380°C (23°F - 716°F)
Application
Marlotherm® SH is a high performance heat transfer fluid for use in closed loop, forced circulation heat transfer systems. Primary uses are chemical industries and plastics processing.
About Marlotherm® SH
Marlotherm® SH is recommended for use in the temperature range from 250°C (482°F) to 340°C (644° F), but can be used intermittently at film temperatures as high as 380°C (716° F).
Marlotherm® SH heat transfer fluid is non-corrosive
Marlotherm® SHcan be used without being pressurised
Marlotherm® SH. This heat transfer fluid can be used in systems requiring start-up temperatures as low as -5°C (23° F) without the need for heat tracing
Marlotherm® SH thermal fluid is thermally stable up to 300°C (572°F) and can be used for several years below this temperature 
without reducing performance
Marlotherm® SH. Low viscosity 17 cSt @ 40°C (63°F) with a pumping limit at -5°C (23°F) - making it the lowest in its fluid class
Marlotherm® SH. This thermal fluid has a high flash point 200°C - highest in its fluid class
Marlotherm® SH has superior thermal stress resistance in the bulk outlet temperature range from 60°C-350°C (140°F - 662°F)
---