Remote Monitoring Unit
Product Announcement from Global Monitoring, LLC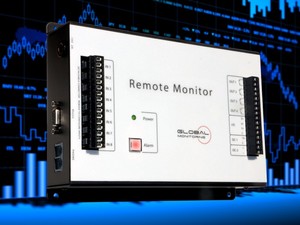 Tracking parameters such as liquid level, pressure, and temperature, the Messenger GMU8120 Remote Monitoring Unit provides real-time operating status of unattended groundwater remediation systems and notifies personnel via telephone or computer of problems or impending failures. This remote terminal unit (RTU) also retains detailed historical information of equipment operation that can be used to optimize equipment operation or provide proof of operation to end-users.
Just attach sensors to measure conditions that are important to you; use a laptop for simple, menu-driven configuration, and then connect a phone line or optional cellular or Ethernet interface for communication. The Messenger GMU8120 immediately begins to record the monitored conditions and respond to anomalies.
Information the way you need it.
Not near a computer when you need to check on the conditions at a remote site? No problem! The Messenger Remote Monitoring Unit adapts to your needs by delivering information digitally to your computer, audibly to your phone, or as a printed report to your fax. You can connect to the Messenger Remote Monitoring Unit at any time to receive a live report of monitored conditions or have it contact you if something happens that needs your attention.
And it does more than just report on conditions!
The GMU8120 can perform a wide range of control, communication and input processing tasks. It can totalizing flow; track the run-time hours of a pump; control tank levels; count events; regulate temperatures; and more. You can even use it to remotely re-boot a misbehaving PLC or control system.
We've eliminated the 'Weakest Link'.
Many competitive systems route data from all monitored sites through their proprietary servers - creating a single point of failure. A server malfunction, cyber-attack, network overload or natural disaster can suddenly and without warning cut you off from all of your remote sites for an indefinite period of time. The Messenger GMU8120 Remote Monitoring Unit eliminates this 'weakest link' by enabling you to manually contact any of your remote sites by landline. You can, of course, utilize our optional web-based reporting service while retaining the capability of contacting your remote sites directly.
And we've lowered the cost of ownership!
Global Monitoring knows that communications costs, monitoring fees and electrical power can add up to thousands of dollars over the lifespan of a monitoring system. The Global GMU8120 Remote Monitoring Unit addresses these issues by utilizing reliable low-cost landline communication; eliminating the need for a fee-based monitoring services; and by utilizing high-efficiency Energy-Star power supplies.
But we've gone further: the Messenger can be factory pre-configure to your specification to reduce installation time. And if the Messenger ever fails, its plug & play design facilitates field replacement by non-technical personnel.
A system with many uses.
The Messenger GMU8120 Remote Monitoring Unit can be used for:
Preventive Diagnostics
Maximize equipment up-time and operating efficiency by using the GMU8120 to record the history of vital conditions, then analyze that data to pinpoint degradations that can be corrected in a timely manner.
Inventory Management
Check tank levels at any number of locations. Use the level readings along with usage data to reduce the occurrence of run-outs and to optimize delivery schedules.
Failure Analysis
Put the equivalent of a jetliner's "black box" on critical equipment to help you ensure that it is being properly operated and maintained. Use the collected data to help you determine the root cause of equipment failures.
Environment and Infrastructure
Use the GMU8120 to monitor air and water quality, stack emissions, noise levels and leakage. Keep tabs on landfill conditions, bridges, levies, flood control projects and sewage systems.
Energy Management
Get the detailed energy-usage data for the equipment at your remote sites that will help you make the policy changes and upgrade decisions to reduce your energy costs.
Key Features
8 protected inputs accept 4-20mA, dry-contact and 0-5VDC sensors
Supports an optional eight-input expansion module for a maximum of 16 sensors
4 output relays
Data logger records up to 10,000 events
An alarm processor detects anomalies with the monitored conditions and responds with a local alarm or outgoing message
Battery backup (UPS) that can also provide power to your sensors and accessories
Specifications
Size: 230 x 175 x 70 mm (9 x 7 x 2¾ inches)
Operating temperature: 0 to 50C (32 to 130F)
RS232 for local access
Input expansion port
Self-contained rechargeable backup battery for hours of uninterrupted service
Communications
Modem (standard)
Voice (standard)
Fax (standard)
Wireless (optional)
Ethernet (optional)
Power Options
100-240 VAC wall supply (standard)
90-240 VAC DIN-Rail supply (optional)
For information on off-the-shelf remote monitoring units and customized solutions, click here or contact Global Monitoring.
---