Salt Spray and Salt Fog Testing
Service Detail from Global Testing Services, Inc.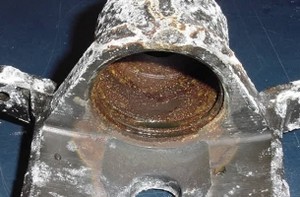 The salt spray test is a standardized test method used to check corrosion resistance of coated samples. Coatings provide corrosion resistance to metallic parts. Since coatings can provide a high corrosion resistance through the intended life of the part in use, it is necessary to check corrosion resistance by other means. Salt spray test is an accelerated corrosion test that produces a corrosive attack to the coated samples in order to predict its suitability in use as a protective finish. The appearance of corrosion products (oxides) is evaluated after a period of time. Test duration depends on the corrosion resistance of the coating; the more corrosion resistant the coating is, the longer the period in testing without showing signs of corrosion.
Commonly Used Standards
ASTM B117 Standard Practice for Operating Salt Spray (Fog) Apparatus

5100Z-SEO-0000 Auto Suspension Parts-Coating Quality Standards

5100Z-SGO-A000 Auto Suspension Parts-Coating Quality Standards on Iron-Zinc Alloy Coated Steel Sheet

AAMA 2605 Performance Requirements & Test Procedures for Superior Performing Organic Coatings on Aluminum Extrusions and Panels

ASTM G85 Standard Practice for Modified Salt Spray (Fog) Testing

Daimler Chrysler LP-463-PB-10-01 Salt Spray Test

Daimler Chrysler PF-9688 Electrical/Electronics (E/E) Devise Environmental and Durability Testing Specifications

DIN 50021 Salt Spray Testing

Ford 00.00EA-D11 Environmental Requirements-Non EMC Vehicle Electrical and Electronic Systems

Ford BI 103-01 Salt Spray Resistance Test for Painted Panels and Parts

GM4298P Salt Spray Test

GMI 60206 Determination of Resistance to Corrosion of Automotive Components

Honda HES 6501 Salt Spray Test

Honda HES D2021 Corrosion Proof Coating Testing

Honda HES D6001-049A General Test Methods for Plating

IEC 68-2-52 Environmental Testing-Test Kb-Salt Mist, Cyclic

ISO 7253 Salt Spray Corrosion Testing

ISO 9227 Corrosion Tests in Artificial Atmospheres-Salt Spray Tests

JIS H 8502 Methods of Corrosion Resistance Test for Metallic Coatings

JIS Z 2371 Methods of Salt Spray Testing

MIL-STD-202, Method 101 Salt Atmosphere (Corrosion)

MIL-STD-810, Method 509 Salt Fog

Nissan NES M0140 Salt Spray Testing

Renault D17 1058/--H Neutral Salt Spray Test

SAE J1455 Environmental Practice for Electronic Equipment Design (Heavy-Duty Trucks)

SAE/USCAR-15 Specification for Testing Automotive Miniature Bulb Socket/Circuit Plate Assemblies

Toyota TSH1552G Test Method of Salt Spray

Toyota TSH3128G Anti-Corrosion Paints for Parts
You have successfully added from to your part list.
---