Fixed Height Gantry Crane
Product Announcement from Gorbel Inc.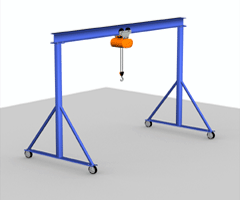 6" diameter, Polyurethane casters with a steel core are standard
Polyurethane wheel
Bolted beam uprights
Manufactured in USA
Pre-engineered for use with powered hoists
Adjustable Height Gantry Cranes provide an economical way to lift materials anywhere in a facility. The wheels enable you to move the gantry around your facility. The crane can be adjusted to provide different lifting heights. This is a more cost effective solution for areas of infrequent lifts than a more expensive permanent structure. Available in capacities from 1 - 5 ton and spans up to 30'. Adjustable in 2 - 3 ft. increments (see brochure).
Adjustable height
6" diameter, Polyurethane casters with a steel core are standard
Polyurethane wheel
Bolted beam uprights
Pre-engineered for use with powered hoists
Can be moved to almost any location
Cost effective in areas of infrequent lifts
Fixed heights of 10', 12', 15', or 20' available
Capacities from 1 to 5 ton
Non-marking, 6" diameter durable polyurethane casters are standard and provide for easy movement
Polyurethane wheels roll smoothly even over rough floor surfaces, and can withstand water, oil, and most other chemicals
Bolted beam to upright ensures that beam does not dislodge
Pre-engineered for use with powered hoists
---