G-Force Lifting Device in Capacities to 1320 lbs
Product Announcement from Gorbel Inc.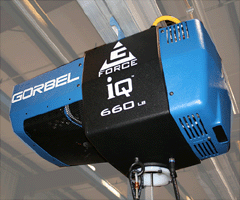 Gorbel's G-Force® Intelligent Lifting Device is now available in capacities of 165, 330, 660, and 1320 lbs. The G-Force® Q and iQ units give you the responsiveness and the flexibility of a human operator, plus the power of a machine. The G-Force® Q and iQ units are more precise than hoists and more responsive than air balancers. They improve safety, productivity and quality, resulting in a direct increase to your bottom line.
The Q and iQ are ideal for larger capacity lifting applications, including:
Lifting fully dressed engines and transmissions
Changing out expensive machine tooling and dies on production machinery
Heavy equipment manufacturing
Valve assembly for oil and natural gas industry
The new units offer:
On-board diagnostics for easy maintenance
New handle design - the redesigned handle is more ergonomic and features a standard LCD display that better communicates valuable information both to operators and maintenance personnel. Information displayed includes G-Force® operation modes, programming menus, fault codes, diagnostic information, and weight readouts.
G360™ Electric/Air Swivel - The G360™ swivel assembly on the handle allows the G-Force handle to rotate without twisting the coil cord in applications where the operator is continuously rotating the handle. The G360™ accommodates the coil cord cable, the optional input/output module signals, and the air power for end effector tooling.
The base Q model comes stocked with standard options, but if you want even more intelligence capabilities for your G-Force® unit and your tooling, choose the iQ unit.
The iQ comes with:
Programmable features - The iQ has several programmable features such as Auto-Unclamp and Part-Present detection. Using these features to control your tooling increases productivity and minimizes errors.
Auto-Home - The iQ is capable of programmed motion such as return to home or other teachable points within the vertical hook travel to save operators time.
Teachable virtual limits - The iQ unit's enhanced control package provides expanded Virtual Limits capabilities, including upper and lower virtual limit stop points, speed reductions points in up and down travel, and program mode lockout to protect virtual limit settings from unwanted changes.
External Programmable Inputs and Outputs - Multiple programmable inputs/outputs (I/O) are available on the new iQ unit. The unit comes standard with 8 I/O points. Flexible and convenient I/O blocks, each containing 8 I/O points, can be individually added to provide just the right functionality for your application.
Features:
Virtual limits and points of speed reduction are standard
Handle configurations are easily changeable in the field
More processing power for smooth operation and improved performance
Improved float mode allows for better control of the load
LCD on hand controller communicates more information like system status and diagnostics
Readily accepted by operators because its easy to use & enhances their job performance
Rapid return on investment through increased productivity & reduced product damage
Decreases risk of operator injury creating a safer work environment
Use for:
Automotive (engine assembly, transmission assembly, chassis components)
Tool & Die changeouts
Repetitive lifting jobs
Parts Assembly
Machining
Palletizing loads
Warehouse loading docks
Options and Accessories:
Remote mount slide handle
Suspended pendant control handle
Remote mount pendant control handle
Remote mount slide handle bracket
Remote mount handle clamp collar
Shock absorbing end stop
Latch hook
Extended wire rope drop
Slide on Air Hose
Transformer
Universal trolley adapter

Play G-Force Lifting Device in Capacities to 1320 lbs Video
---