Gorman Star Winding Machine
Product Announcement from Gorman Machine Corporation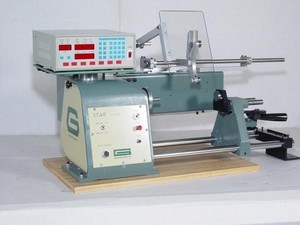 The winding program for a complete coil of several windings is stored in several different steps or levels. Each level would have a starting position, a bobbin width and a winding pitch per turn and total number of turns.

Two different power settings up to 99, determine low speed and high speed windings.

Winding direction from the start position can be programmed to the right or to the left. If an auto start is wanted for the next winding, press auto start button at this level and the winding will start up immediately at the start of the next level or steps.

If a winding program with a pitch and rpm combination which exceeds the machine limits is entered, there is a simple formula in the manual, which gives the operator corrective procedures.

Electronic controlled traverse with a stepping motor drive for precision winding.

Features:
Entire winding program entered into computer in a simple manner
Programs include turns, wire pitch and winding speed with slow start and finish
4 quickly changed speed torque ranges up to 10,000 rpm for wide range of wire sizes and torque requirements
Different coil instructions can be stored in computer memory and quickly called up by operator
Electronic controlled traverse with stepping motor drive
Most features included as standard equipment at remarkably low cost
Foot switch standard electric brake standard
Simplified operator instruction manual for step-by-step procedures
PC compatible quiet running
All USA made for quick parts access
Contact us today for a quote!
---