Centrifugal Pump
Product Announcement from GRI Pumps (A Gorman-Rupp Company)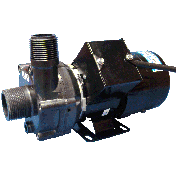 Centrifugal pumps are designed to transfer both corrosive and non-corrosive fluids at maximum hydraulic efficiencies. Centrifugal pumps are not self-priming and must be used in applications where flooded suction exists. These pumps can not be run dry.
GRI Centrifugal Pump Range of Specifications:
Max Flow Rates - Range to 60 gpm
Max Discharge Heads - Range to 85 Feet
Max Fluid Temperature - To allow for optimum life, pumps with lip seals are limited to 180°F (82°C) and pumps with mechanical seals permit operation to 220°F (104°C)
Motors - All motors are rated for continous duty, thermally protected and UL recognized.
Typical applications:
Commercial and residential heating and cooling systems
Commercial coffee urns
Icemakers
Dish and glassware washers
Laundry appliances
Plating systems
Agricultural sprayers
Industrial floor scrubbers
Registered Trademark Names
©2005, Gorman-Rupp Industries
---