Oscillating Pumps
Product Announcement from GRI Pumps (A Gorman-Rupp Company)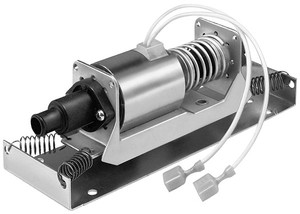 Oscillating pumps are self-priming, corrosion resistant, have no dynamic seals and are constructed from FDA accepted materials.
Oscillating Pump Operation:
An elastomeric impeller extends through a spring and armature and into an electric coil. A diode in the circuit feeds impulses to the electrical coil 60 times per second. Each pulse draws the armature and impeller forward against the spring, causing the impeller to pump a volume of liquid out through the outlet port. The spring then returns the armature and impeller to their starting position, drawing liquid through the inlet. A valve in the impeller prevents backflow of liquid.
Pump Specifications:
Flow Rates - Generally range from 0.2 to 0.8 gpm. Flow rates may vary from pump to pump. Due to this inherent characteristic, these pumps are not normally intended for metering.
Discharge Head - To 8.3 feet (on standard models)
Self-Priming - To 48 inches (on standard models)
Fluid Temperature - To 104°F (40°C)
Weight - Approximately 1 pound
Motors - 115v, 230v 50/60 Hz
Materials in Contact with Solution: EPT/EPDM & Glass-Reinforced Polypropylene.
OEM Applications:
Film and microfilm processors
Litho and graphic arts plate processors
Detergent dispensing
Chemical mixing
Medical, scientific and laboratory equipment.
These pumps are intended for replenishing, transfer and circulating installations.
Registered Trademark Names
©2005, Gorman-Rupp Industries
---