Product Announcement from Graco Inc.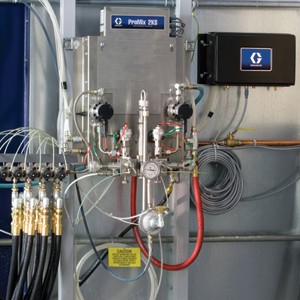 Graco's two-component electronic plural component proportioners offer integrated color change capabilities for both automatic and manual applications. Designed to handle a wide range of materials, the ProMix 2KS is available in configurations that includes an EasyKey display and a Smart Fluid Panel. With this proportioner, the need for hand mixing is eliminated, resulting in more accurate mixing and material cost savings.

"The ProMix 2KS gives the heavy lifting of the job to the product, not to the people, resulting in finishing applications that are highly reliable and accurate," says Blake Erickson, worldwide product marketing manager, Industrial Products Division, Graco, Inc.
As an electronic proportioner, the ProMix 2KS includes other features that enhance its programming, safety and accuracy. Simple control modules allow for easy programming, giving the operators fast set ups and efficient process controls. Advanced Web interfaces provide system management and reporting. Safeguards such as the self-flushing component shorten clean-up and color-change time, making the time more productive in spraying. An electronic feedback system gives the operator critical process control and both tracks and reports efficient material usage.
Graco's one-platform ProMix 2KS provides precise and reliable electronic proportioning for a variety of finishing materials. This one unit will meet the needs of entry-level to more involved applications and provide both flexibility and increased efficiency.
Graco's Finishing Products provide solutions for all types of wood, metal and plastic applications. Our applicators, pumps, packages and plural component equipment improve productivity, reduce paint usage costs, lower emissions and provide consistently better finishes. For additional information about the ProMix 2KS, please visit www.graco.com/finishing.
About Graco Inc.


Graco Inc. offers systems, products and technology that set quality and production standards in a wide range of fluid handling applications including spray finishing and paint circulation, lubrication, sealant and adhesives, processing, as well as power application equipment for the contractor industry.
You have successfully added from to your part list.
---