Product Announcement from Graco Inc.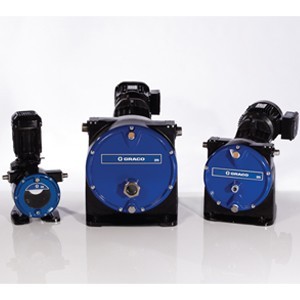 Graco's EP Series hose pump design utilizes a single, oversized roller that compresses a low friction hose through a full 360-degrees of rotation. This innovative design puts 40% less stress on the hose compared to conventional shoe pumps running at the same flow rate. This results in a longer hose life when pumping corrosive, abrasive or sensitive materials for chemical metering, plating or yeast applications.
"The versatility of our hose pumps allows them to be used in a wide variety of applications," says Graco's Rich Barrett, Process Marketing Manager. "The same pump can be used for various products without the need for hose changes or mechanical changes to the pump."
The pump also has 50% more fluid flow per revolution than C-shape positive displacement pumps. Other features include a compact footprint for tight spaces and flexible placement, a removable cover for easy access to internal parts and a one-piece "quick change" hose clamp assembly for fast service.
EP Series hose pumps are available in 3 sizes and can run at speeds as low as 1 rpm. For more information about Graco's hose pumps, please visit www.graco.com/hosepumps or call a Graco representative at 877-844-7226.
About Graco:?
Graco Inc. supplies technology and expertise for the management of fluids in both industrial and commercial applications. It designs, manufactures and markets systems and equipment to move, measure, control, dispense and spray fluid materials. A recognized leader in its specialties, Minneapolis-based Graco serves customers around the world in the manufacturing, processing, automotive, construction and maintenance industries. For additional information about Graco Inc., please visit us at www.graco.com.
You have successfully added from to your part list.

Play Peristaltic Hose Pumps Video
---