Product Announcement from Groschopp, Inc.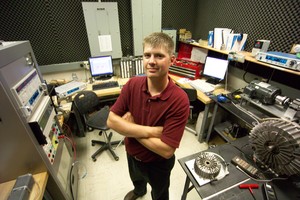 When choosing a Groschopp fractional horsepower gearmotor you're doing more than buying a high quality product: you also receive exceptional customer service and the expertise of Groschopp's full service engineering department.
The Groschopp engineering department is comprised of 16 technical personnel coming from diverse educational and industrial backgrounds; our engineers have many areas of expertise:
Advanced Manufacturing Techniques
Geometric Dimensioning & Tolerancing (GD&T)
Finite Element Analysis (FEA)
Heat Treatment Techniques
Bearing Specification
Brush Optimization
Gear Design
Shaft Design
Casting and Mold Design
Electric Motor Design
These engineers have a vast wealth of knowledge due to the wide array of products that have been designed and produced at Groschopp.
Full Service: Groschopp offers a "full-service" engineering staff. To best convey their needs, Groschopp's customers have ready access to Groschopp engineers allowing them to gain a full understanding of the project's specifications. Often times our engineers will suggest a better and/or lower-cost solution. Using the sophisticated tools of internal software programs and testing facilities, the engineers can create and test the design, visualize usage scenarios and simulate the motor environment to avoid potential problems.
Continuing Education: Special emphasis is placed on the sharpening of each engineer's skills through educational consultants, webinars, seminars, technical meetings and trade shows. They are educated in new engineering practices, design software and design trends.
Tough Jobs: Groschopp engineers are willing to take on the "tough jobs" - the projects in which a solution is not readily apparent. Groschopp's engineering department specializes in custom motor and gearmotor designs, customizing our standard product line and creating entirely new "blank sheet" custom designs.
Case Studies: Groschopp recently developed a control methodology that replaced five different motor designs with one custom solution.
An automotive customer came to Groschopp seeking a permanent magnet gearmotor. This gearmotor would be exposed to extreme temperatures ranging from -40°F to 120°F and excessive vibration. A concern arose that the motor would either overheat or lock up from the acute temperature differences and constant vibration. While considering the environment, the following were specified or modified:
Gears
A cold temperature lubricant
Current draw
Custom brush holders
By overcoming these design challenges Groschopp engineers have built an extensive base of product knowledge and ideas that can be applied to future projects. view additional case studies
You have successfully added from to your part list.
---