Earthquake Simulation Using Linear Motion Stages
Product Announcement from H2W Technologies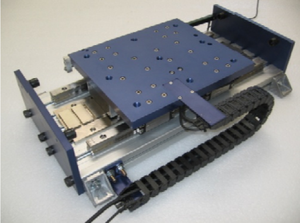 With the goal of safer buildings and saving lives, scientists and engineers, through the simulation of many recent earthquakes, need to test building materials and structural designs. Using either a one or two-axis high force linear positioning stage from H2W Technologies, they can simulate the effects of earthquakes as large as the largest recorded earthquake in history, the 9.5 magnitude quake on the open-ended Richter scale, in May of 1960 in Chile.
To generate the high forces accelerations necessary to simulate different types of earthquakes, including a transform plate boundary quake (a destructive type of earthquake), H2W uses three-phase brushless motors with Hall Effects guided by linear ball bearings.
H2W also manufactures a line of high force linear positioning stages that have single-axis operation. This stage has a standard continuous force of 84 pounds [374 N], and a stroke of 8 inches [0.2 meters], although longer strokes and higher forces (up to 250 pounds [1113 N] continuous) are readily available. H2W will design a customized stage to meet a customer's specific needs.
Key Features
Linear motors for reliable and quiet operation
Extensive data acquisition and control capability
Easy integration of your structures, sensors, and actuators
Fully documented system models and parameters
Supports scaling and playback of earthquake data
Synchronize motion profiles with multiple tables and/or other data acquisition systems
Integrated safety features and limits
Read H2W's "Earthquake Simulation Using Single or Dual-Axis Linear Motion Stages" article in its entirety.
H2W Technologies is dedicated to the design and manufacture of linear and rotary motion products that are used in the motion control industry. The complete line of linear electric motors includes: single and dual axis linear steppers, DC brush and brushless linear motors, voice coil actuators, and AC induction motors. Also offered is a complete line of ball screw, lead screw and belt driven positioning stages.
Other motion control products include: limited angle torque motors for compact, limited angular excursion rotary servo applications, 3 phase brushless rotary servo motors with matching digital servo amplifiers and permanent magnet linear brakes for fail-safe, zero power braking for baggage handling and people moving applications as well as amusement park rides.
With over 75 years combined experience in the linear and rotary motion field, the H2W Technologies team of engineers offers the optimal solution to the most demanding motion control requirements.
For additional information please contact Mark Wilson at H2W Technologies, 26380 Ferry Court, Santa Clarita, CA 91350; Tel: 888-702-0540, Fax: 661-291-1626, E-Mail: info@h2wtech.com or visit the website at www.h2wtech.com.
You have successfully added from to your part list.
---