Product Announcement from H2W Technologies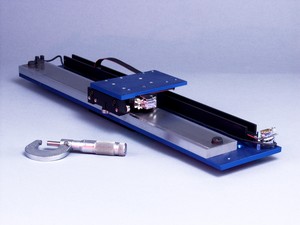 Traveling at speeds up to 80 in/sec. [2 m/sec], with stroke lengths to 144 in. [3.6 m], and acceleration to 1G, these 2 and 4 phase linear steppers are ideal for: Pick-and-place, wire bonding, parts transfer, semiconductor wafer handling, inspection machines, and other robotic applications. Four models offered 2 lbs [9 N], 6 lbs. [27 N], 10 lbs. [45 N] and 20 lbs [89 N] of continuous force. This new series of single axis linear steppers with a low profile high flex, long life ribbon cable also includes the motor, bearings and positioning system with home position, and optional end-of-travel limits integrated into a compact package.
SPECIFICATIONS:
Travel = Up to 144 inches (3.6 m)
Speed = Up to 80 inches / sec (2 m/s)
Forces Available = 2 lbs (9 N), 6 lbs (27 N), 10 lbs (45 N), and 20 lbs (89 N).
Acceleration = Up to 1 G
Resolution = .00004 inches (1-micron) with microstepping driver.
Accuracy = .001 inches/foot (typical)
Repeatability = .0004 inches/foot (typical)
Typical Applications:
Pick and Place
Wire Bonding
Parts Transfer
Semiconductor Wafer Handling
Inspection Machinery
Options:
2 Phase or 4 Phase Wiring
Linear encoder option
End of travel Limit Switches
Control packages available from H2W
Benefits:
Simple design provides trouble-free precision control in open-loop operation, which is highly repeatable.
Zero backlash.
Long life high-flex ribbon cable used, to achieve over 100,000,000 cycles typically.
H2W Technologies is dedicated to the design and manufacture of linear and rotary motion products that are used in the motion control industry. The complete line of linear electric motors includes: single and dual axis linear steppers, DC brush and brushless linear motors, voice coil actuators, and AC induction motors. Also offered is a complete line of ball screw, lead screw and belt driven positioning stages. Other motion control products include: limited angle torque motors for compact, limited angular excursion rotary servo applications, 3 phase brushless rotary servo motors with matching digital servo amplifiers and permanent magnet linear brakes for fail-safe, zero power braking for baggage handling and people moving applications as well as amusement park rides.
With over 75 years combined experience in the linear and rotary motion field, the H2W Technologies team of engineers offers the optimal solution to the most demanding motion control requirements.
For additional information please contact Mark Wilson at H2W Technologies, 26470 Ruether Avenue #102, Santa Clarita, CA 91350; Tel: 888-702-0540, Fax: 661-251-2067, E-Mail: info@h2wtech.com or visit the website at www.h2wtech.com.
You have successfully added from to your part list.
---