Toll Extrusion Services
Service Detail from H.C. Starck Inc. - Fabricated Products Group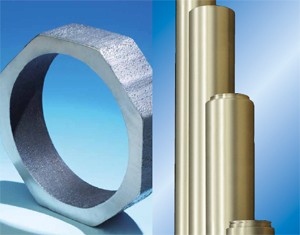 H.C. Starck is one of the largest producers of refractory materials with world class extrusion capabilities and services. We help customers solve material processing and fabrication challenges with extrusion technology and an extensive knowledge in the processing and metallurgy of a wide spectrum of metals and alloys.
Our extrusion services offer the ability to convert material to meet the size and shape requirements of customers. With a highly qualified staff of Engineers and Production Developers, we can assist with specifications for your material process and design needs. H.C. Starck focuses on extrusion process development to optimize extrusion quality and material yields. By producing near-net-shapes and pipes, extrusion reduces machining costs and improves material yields.
H.C. Starck can also provide extruded products, such as pipe and shapes, in many ferrous and nonferrous metals. We have one of the only extrusion operations in the world that can produce extruded pipe with a flange. As a vertically integrated supplier, we can manage the entire process from material procurement, extraction billet preparation to a wide range of finishing processes, including heat treatment, cleaning, straightening, and cutting.
Our extrusion expertise comprises specialty metals and alloy based systems including titanium, molybdenum, tantalum, niobium and other metals for large extrusion applications.
Best in class production and extrusion facilities at H.C. Starck are producing molybdenum rotary targets with inside diameters of 125 mm (monolithic) and 135 mm (bonded) up through the current largest rotary target requirement with our 5,000 metric ton direct extrusion press, which is unique in the refractory metals business.
Tantalum, niobium, nickel-vanadium and other materials also can be produced in planar or rotary form. Rotary targets in lengths of 4 m (or more) can be produced per customer specification. H.C. Starck uses highly specialized equipment and technologies capable of producing rotatable sputtering targets at the height of the most demanding requirements of target users in the areas of LCD display, large area coating and solar cell applications.
Download our Extrusion brochure under Metal Mill & Fabricated Products:
http://www.hcstarck.com/en/hc_starck_group/brochure_downloads.html

Play Toll Extrusion Services Video
---