Molybdenum Glass Melting Electrodes
Product Announcement from H.C. Starck Inc. - Fabricated Products Group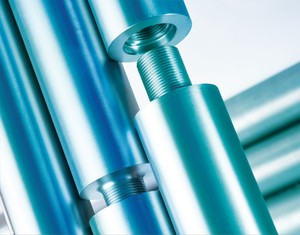 Molybdenum Glass Melting Electrodes
Molybdenum Glass Melting Electrodes from H.C. Starck provide the industry with high standards for efficient glass melting and electric boosted melting. The high-temperature strength and rigidity of molybdenum electrodes, plus the inherent electrical properties of molybdenum, provide maximum operating efficiency. The exceptional purity level of H.C. Starck's molybdenum electrodes (99.95% minimum) achieves outstanding resistance to chemical corrosion, degradation, and minimizes detrimental glass discoloring.
H.C. Starck provides glass manufacturers with a range of purchasing options to align with the glass melting application and location of the electrodes in the furnace.
We offer a variety of electrodes for the most demanding glass melting applications:
Standard or tapered threads
Machined or centerless ground surfaces for assurance of concentricity and straightness
High purity (99.95% minimum)
Bubble free, low carbon electrodes
GMEs from 1.25" (32 mm) to 8" (203 mm) in diameter
Uniform recrystallized grains for creep resistance
In addition to the traditional powder metallurgical processing, H.C. Starck produces superior Glass Melting Electrodes by the exclusive electron beam (EB) melting process.

At H.C. Starck the electron beam (EB) melting process is used to manufacture MOLYMELT EB glass melting electrodes. EB melting technology uses recycled molybdenum as part of its raw material. This is prepared by being "bombarded" with electrons in the furnace. The material melts and falls into a water-cooled copper mould, where it solidifies into a round molybdenum ingot. The ingot is then forged and formed into the desired shape. EB melting is carried out under high vacuum, so that elements with melting points lower than molybdenum volatilize, leaving the molybdenum more than 99.95% pure and 100% dense.
To improve the glass industry's critical applications in melting, homogenizing, feeding and shaping of glass products, H.C. Starck offers:
> Molybdenum Glass Melting Electrodes
> Mo Sheet and Plate for Tank Reinforcement
> Oxidation Protective Coating
> Tubular Targets for Large Area Coating
Recycling
One of H.C. Starck's guiding principles is to make a positive contribution to sustainable development and we offer our customers the unique service to recycle spent electrodes through our EB furnace.
Oxidation Resistant Coating
At H.C. Starck we are continually improving our coating processes that provide molybdenum and other refractory metals with outstanding protection against oxidation at high temperatures. These ceramic coatings are integral with and chemically bonded to the metal surface and they cannot separate or spall. Being produced via a chemical vapor deposition, the coatings can be applied uniformly to all surfaces including the inside of thin tubes.
GMEs Manufactured from Powder Metallurgical Processing
Structure
Glass melting electrodes will normally be shipped as stress relieved. Material can be supplied in the re- crystallized condition upon request.
Dimensional Tolerances:
Diameter Diameter Variation Out-of-Round
Inches mm Inches mm Inches mm
1 1/4 31.7 +/- 0.015 ± .38 0.015 0.38
1 1/2 38.1 +/- 0.015 ± .38 0.020 0.51
2 50.8 +/- 0.030 ± .76 0.025 0.63
2 1/2 63.5 +/- 0.030 ± .76 0.025 0.63
3 76.2 +/- 0.040 ± 1.0 0.035 0.89
4 101.6 +/- 0.040 ± 1.0 0.050 1.27
Straightness
Maximum variations from straightness will be 0.030 inch per foot. Maximum variation in cut lengths will be +1/4", -0 inch. Special tolerance on request.
Threading
U.S. standard and special threads are available on either or both ends.
Surface Condition
Glass melting electrodes will be supplied with centerless ground or machined surfaces of 128 micro inch or better. Minor surface imperfections may be removed by conditioning while maintaining the dimensional tolerance.
GMEs Manufactured from Electron Beam Melting Process
Structure
The material can be offered as forged as well as recrystallized (after annealing).
Ultrasonic Test
All H.C. Starck Hermsdorf glass melting electrodes (GME) are inspected by ultra-sonic test according to DIN EN 583.
Density
p ≥ 10,2 g/cm³
Dimensions and Tolerances
The material can be supplied in the following standard diameters:
32.0 mm (1 ¼")
50.8 mm (2")
63.5 mm (2,5")
76.2 mm (3")
101.6 mm (4")
127.0 mm (5")
152.4 mm (6")
Tolerances: +/- 0,5 mm in lengths up to 2,5 m.
Other diameters are possible according to customer request.
Straightness
Maximum deviation 1,5 mm / m
Threads
Male or female threads according to customer drawing.
Surface quality
Turned, ground or blasted.
Identification
All glass melting electrodes are identified by the lot number.
Refer to Product Data Sheets for Molybdenum for sizes:
PD-7018_2 Pure Molybdenum Glass Melting Electrodes
PD-7013_0 Molybdenum Glass Melting Electrodes made from Electron Beam Melting
Download a free brochure:
http://www.hcstarck.com/en/hc_starck_group/brochure_downloads.html

Play Molybdenum Glass Melting Electrodes Video
---