Product Announcement from H.C. Starck Inc. - Fabricated Products Group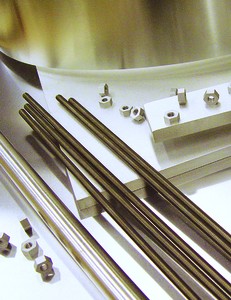 TZM is an established Molybdenum alloy (0.50 Ti, 0.08 Zr, balance Mo), which is consolidated by either the P/M or vacuum arc-casting processes. It gives excellent service in applications that require high strength and creep resistance at elevated temperatures. TZM Molybdenum Alloy also permits higher service temperatures without softening or weakening.
A major attribute of our vacuum arc-casting process is the superior result, which can be obtained in alloying. In the vacuum arc furnace, complete melting and blending of the molybdenum and alloys takes place to assure a homogeneous material.
H.C. Starck produces a wide range of molybdenum and molybdenum alloy mill products using two primary consolidation methods; vacuum arc-casting (VAC) and powder metallurgy (PM). The availability of products from both of these established processes gives users many options in selecting a material to satisfy their specific application requirements. Mill products available from either process include forging billets, bar, rod, sheet, plate and foil.
Refer to Product Data Sheets for A/C (arc-cast) and P/M (powder metallurgy) sizes:
PD-7004 A/C Plate
PD-7005 A/C Sheet
PD-7021 A/C Billet
PD-7025 A/C Bar
PD-7001 P/M Sheet
PD-7011 P/M Plate
PD-7031 P/M Billet
Additional sizes available upon request.
Download a free brochure:
http://www.hcstarck.com/en/hc_starck_group/brochure_downloads.html
Contact:
You have successfully added from to your part list.

Play TZM Molybdenum Alloy Video
---