Product Announcement from Hi-Tech Controls, Inc.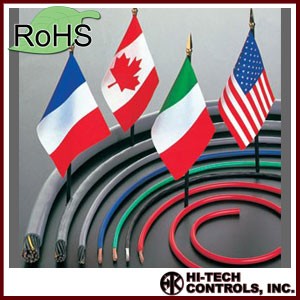 Fivenorm and Threenorm Hook-up Wires are designed primarily for export, used in machine tools. Threenorm-approved connecting jumper wire is used for internal wiring of switchboards and electrical equipment. These PVC single conductors are halogen-free, PVC self-extinguishing and flame retardant.
Approvals: UL, CSA, CE, HAR, MTW, AWM, RoHS compliant
Hi-Tech Controls' new Cables & Wires Catalog offers you over 800 Pages of products that are now available ONLINE!
Product Selection: Flexible Control Cables, Data Cables, Computer Cables, Cables for Drag Chain, Cables for Track, Servo Cables, Feedback Cables, Motor Cables, Heat Resistant Cables, All-Weather Cables, Rubber Cables, Trailing Cables, Robot Cables, Water-Resistant Cables, Flat Cables, Ribbon Cables, Single Conductors, Compensating Cables, Coaxial Cables, Internationally Approved Cables, Installation Cables, Telephone Cables, Fire Warning Cables, Power Cables, Security Cables, Medium Voltage Cables, Data Cables, Network Cables, Bus Technics, Media Technology, Special Cables, Pre-Assembled Cables, Spiral Cables, Shipwiring Cables, Marine Cables, Technical Information
Competitively Priced! No Minimum Orders! Free Sampling Policy! $25 Million Inventory!
HI-TECH CONTROLS provides Cables and Wires, Industrial Enclosures, Liquid Tight Strain Relief Fittings, Circular Connectors, Conduit Systems, and Pneumatic Components in the USA and Canada. Call us at 800-677-8942 or visit our website for a FREE catalog, sample or technical advice.
You have successfully added from to your part list.
---