Product Announcement from Hi-Tech Controls, Inc.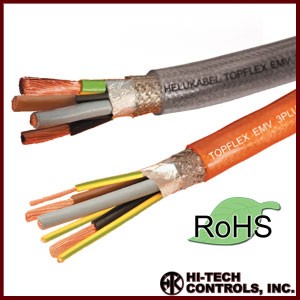 Our cables are RoHS Compliant!
Feedback, Servo, VFD Motor, Robotic, Sensor / Actuator, and Track Cables are just a few of the many types of cables we carry.
Feedback Cables are used in machinery and control construction as well as in plant engineering. The Feedback Cables transmit the control impulse for positioning and operating characteristics of servo motors. Many of our Feedback Cables are highly flexible, EMI preferred type, and are available in both PUR and PVC.
Servo Cables are used today in many areas of highly-automated manufacturing processes. Such processes require cables that are high quality, reliable and long-lasting. These requirements are met to a high degree by our cables. Sealcon's Servo Cables are EMI compatible, protecting against electromagnetic interference. They are manufactured based on specifications from leading manufacturers of servo drives and control systems, as well as in compliance with various VDE standards.
Our VFD cables for AC Motors are suitable for flexible and fixed installation subjected to medium mechanical stresses. They have a cross section of up to 150 mm² (300 MCM). AC Motor drive technology has reduced the size and increased the efficiency of VFD's. Power cables play an important role in the safety and reliability operation of AC drive systems. Helukabel manufactures the TOPFLEX-EMV-3 PLUS cable which has 3 control conductors up to 150 mm² (300 MCM) and 3 ground wires. This is accomplished by a dual shield of aluminum foil surrounded by a tinned copper shield.
Robotic Cables require a variety of special cable constructions, including different stranding elements and cross-sections of the cable. Applications may also require the use of a variety of insulating materials, special stranding types or special shielding. We supply different insulating materials, from PVC to fluorine plastic materials or polyethylene. Our conductor materials range from copper, tinned, nickel or silver-plated copper as well as pure nickel stranded wires and alloys like copper-nickel and nickel chrome.
Sensor / Actuator Cables are used in plug systems, sensors and actuators in decentralized installation and control systems. Field bus technology has made it possible to move the periphery interfaces from the switchgear cabinets to the machines and systems. The assembled cables offer attractive opportunities for reducing costs.
Track Cables are special designed for combined torsion and bending stresses. They are used for power supply and for the transmission of control and monitoring signals. Track Cables have many uses, such as assembly and welding robots, in handling and automation centers, in transport and conveyer equipment, and on turntables and swivel tables.
Applications include automobile, food, packaging, processing, machine manufacturing, robotics, tooling machinery, and printing industries.
Hi-Tech Controls' new Cables & Wires Catalog offers you over 800 Pages of products that are now available ONLINE!
HI-TECH CONTROLS provides Cables and Wires, Industrial Enclosures, Liquid Tight Strain Relief Fittings, Circular Connectors, Conduit Systems, and Pneumatic Components in the USA and Canada. Call us at 800-677-8942 or visit our website for a FREE catalog, sample or technical advice.
You have successfully added from to your part list.
---