Product Announcement from Hi-Tech Controls, Inc.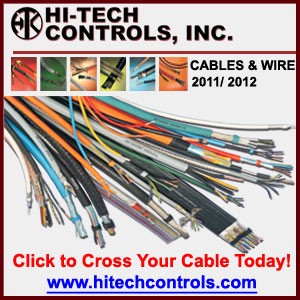 Hi-Tech Controls' new Cables & Wires Catalog offers you over 800 Pages of products that are now available ONLINE!
CABLE SELECTION: PVC and PUR Control Cables, Data & Computing Cables, Cables for Drag Chain / Track, Servo, Feedback & Motor Cables, Heat-Resistant Cables, All-Weather & Rubber Cables, Trailing Cables, Robotic Cables, Water Resistant Cables, Flat & Ribbon Cables, Single Conductors, Compensating Cables, Coaxial Cables, Cables with International Approvals, Installation Cables, Telephone & Fire Warning Cables, Power Cables, Security Cables & Medium Voltage Cables, Data, Network & Bus Cables, (CAT) Data Cables, Bio Flex Control Cables, BUS Cables, Single Conductors, Media Technology, Pre-Assembled Cables, Spiral Cables, Shipwiring & Marine Cables, Hookup Wire, Multiple Approvals: UL, CSA, CE, VDE, IPA, HAR, Drag/Track, Harmonized, Halogen-Free, RoHS, etc., Technical Information, Color Coding and more!
HI-TECH CONTROLS has Logistic Center that houses over $25 Million worth of Inventory! All very Competitively Priced! Quick and Dependable Delivery! No Minimum Orders! Free Sampling Policy! Our highly innovative warehouse makes this installation unique in the business.
Approvals: UL, CSA, CE, VDE, HAR & RoHS Compliant!
We offer cables perfect for the Domestic/Export machine industry. Most cables are suitable for Wet/Dry or Hi/Low temperature environments. Halogen-Free!
HI-TECH CONTROLS provides Cables and Wires, Industrial Enclosures, Liquid Tight Strain Relief Fittings, Circular Connectors, Conduit Systems, and Pneumatic Components in the USA and Canada. Call us at 800-677-8942 or visit our website for a FREE catalog, sample or technical advice.
You have successfully added from to your part list.
---