Product Announcement from HTI Plastics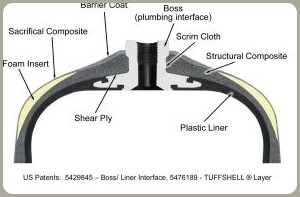 An Unbeatable Team: Ingenuity and Acuity
HTI Plastics Helps Lincoln Composites Expand into Fuel Alternatives Market
Many American market sectors are increasingly impacted by our country's urgent need to attain energy security by finding viable, affordable alternatives. The cost savings of natural gas makes it a major option in the search for alternative fuel for vehicles, and the natural gas market presents high profit potential. HTI customer Lincoln Composites made a decision some time ago to focus on natural gas and take advantage of that potential. Through ingenuity and persistence, the company has continually expanded its position in fuel cylinders over the past nearly seven decades.
Since its 1963 beginning as a supplier of filament-wound structures for the defense industry, Lincoln Composites has worked to commercialize the fabrication process, eventually commanding notable impact in natural gas and hydrogen fuel cylinders in the North American fuel cell market. As a result, the company's sales revenues have grown by a factor of 10 between 2005 and 2012. Today, Lincoln Composites is the largest composite fuel cylinder company in the world.
Over the years, HTI Plastics has developed a solid partnership with Lincoln Composites as its primary supplier of injection molded liners for fuel cell cylinders. The units are manufactured in approximately 10 different diameters, with many more configurations within each diameter. A liner is comprised of two domes, with an extruded tube between them. Its function is to create a gas barrier, gas connections for the cylinder, and a mandrel to filament-wind the carbon/fiberglass composite. A typical fuel cylinder can operate at up to 3,600 psig, while hydrogen fuel cells operate at up to 10,000 psig.
Read full article.
You have successfully added from to your part list.
---