Surge Protection Devices
Product Announcement from HV Components/CKE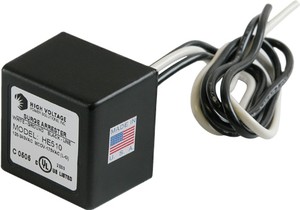 Potential causes of such transients are utility switching, insulation arcing, electrical motor cycling and other large or sudden changes in the electrical power flow on incoming AC power lines. The HE series surge arrestor is a hardwired device using a single MOV per pole to reduce potential load balancing/sharing problems during operation. The device requires no maintenance or "resetting" following a surge.
The device, commonly referred to as a lightning arrestor is available in a number of electrical configurations ranging from 120/240V 1Ø, 3W to 277/480V 3Ø, 4W systems. The epoxy encapsulated arrestor is designed to be easily installed in any position indoors or outdoors utilizing an integral ½" threaded nipple and supplied metal locknut. The housings are molded from flame retardant plastic that is both weather and UV resistant.
The arrestor is ideal protection for outdoor lighting and pole lamps, panel boards, submersible, irrigation and sump pumps, refrigeration and air conditioning equipment. They are provided with 18 inches of #12 AWG color coded wire, however the leads should be cut as short as possible during installation to reduce induction.
The HE500, HE1203 and HE4803 are UL listed as OWHX and may be installed in category B or C location. The units meet ANSI/IEEE C62.11 – 1987and provide excellent voltage clamping performance.
You have successfully added from to your part list.
---