New Habasit Saniclip Makes Sanitation Easier
Product Announcement from Habasit America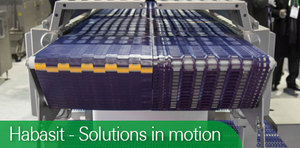 Habasit Saniclip - Rod removal system
The Habasit Saniclip is an innovative device for quick belt opening and easy belt sanitation. This unique rod retention/removal system is specifically designed to work with our Micropitch M0870, M0885 and M1185 belts. The Saniclip allows for simple rod installation/removal for applications where frequent belt sanitation is required. Saniclip has a tactile, non-slip surface for easy removal in wet and/or fatty environments. Multiple Saniclips can be installed on a single belt to allow for easy opening in several locations.
• Available in POM (yellow) or Nylon (blue)
• Reduces downtime
• Extracted or installed in only seconds
• No tools required
• Non-slip surface for easy removal and installation in wet/fatty environments
Habasit Saniclip (PDF, 3 MB)
view>>>The Habasit America Customer Experience
Welcome to Habasit America
Habasit is the worldwide leader in the belting industry. During decades of market leadership, we have developed a broad range of superior products and services as well as a profound knowledge base and experience. Building on these strengths, we are combining our dynamic growth with a continuous extension of our offerings. Our totally customer-driven approach makes Habasit the best provider of high-quality power transmission and conveying solutions for every application.
As a family-owned firm based in Switzerland with a global presence in over 70 countries, Habasit is your partner for the long-term.
Industries:
Habasit - Services the simple way
Fabrication
It's your choice whether to buy a fabricated or pre-fabricated belt. You can even buy a coil (slab) of belt material to make up yourself. To do this job effectively and efficiently, Habasit offers a range of tools which make on-site installation quick and reliable.
---