Hach DR Family Spectrophotometer Systems
Product Announcement from Hach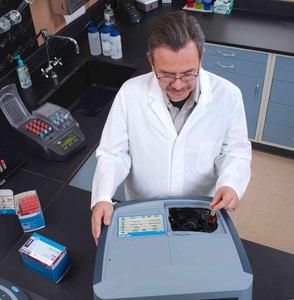 Hach DR Family Spectrophotometer Systems

Confident in your water testing results?
Only Hach provides a truly integrated system with spectrophotometers, chemistries, and methods that are developed, designed and manufactured to optimize your results. Why risk your measurement accuracy by mixing and matching instruments and chemistries from multiple suppliers? Count on Hach for quality, accuracy and consistency.
Lab Analysis
DR 6000™
Top-of-the-line benchtop includes wavelength scanning, the most pre-programs, and the most accessories. Also includes UV for advanced water analysis and research applications.
Field Analysis
DR 2800™
Hach's most popular portable spectrophotometer is known for its versatility and ease-of-use. It allows you to take your lab tests where you need it.
For details on Hach's complete spectrophotometer line, visit www.hach.com/SpecsGuide, call 1-800-227-4224, or use our online help and ask for laboratory support. Ask about our competitive instrument trade in program.
Increased Productivity with TNTplus™ Chemistries
The DR 6000, DR 3900™ and DR 2800 also provide automatic test recognition when used with TNTplus bar coded chemistries. Simply insert the vial-the system automatically detects the method and selects the wavelength. Unlike other systems, dirty, scratched, or flawed glassware, including fingerprints, are no longer issues. The instrument rotates the TNTplus vial, takes 10 measurements, and displays the average, rejecting any outliers. Save additional time since a blank is not required for most parameters. Self-contained packaging reduces exposure to chemicals, eliminating the need to open pillows or clean glassware. Watch the video demo at www.hach.com/TNTPlus.
---