Hach LBOD System for BOD Analysis
Product Announcement from Hach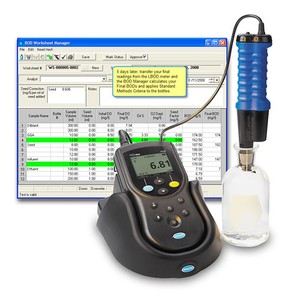 Hach's LBOD System
The breakthrough Hach Luminescent Dissolved Oxygen (LDO®) probe used in this measurement system has NO MEMBRANES to replace, giving reliable accurate results every time. And the EPA has recommended Hach LDO Method 10360 for use in compliance monitoring.*
• No membranes
• Infrequent calibrations
• No electrolyte to replace or anode to polish
• 1-year sensor life
• EPA recommended method*
In addition to reliable, accurate results, customers report savings of 15% or more on maintenance costs. Use our online BOD calculator to estimate your savings.
NEW: Hach BOD Manager™
Software that automates data entry and calculations from the HQ40d Meter and LBOD probe, providing improved productivity and data integrity for Biochemical Oxygen Demand testing.
Get More Information and a Poster!
Visit www.hach.com/BOD for information on BOD (request your free poster while you're there) and the full range of IntelliCAL™ probes including conductivity, DO, ORP, pH, and sodium. Or, call our electrochemistry team at 1-800-227-4224, press # then ext. 6996.
---