miniLab® pocket pH meters
Product Announcement from Hach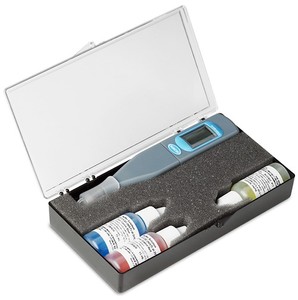 Hach Company (www.hach.com) announces its new Hach miniLab® pocket pH meters featuring a virtually unbreakable non-glass silicon chip sensor that gives stable readings in seconds. Unlike traditional disposable pocket-sized pH meters, the miniLab sensor requires no filling solutions and stores dry, eliminating the need for time-consuming maintenance. The miniLab is part of the Hach H-Series family of non-glass probes, designed specifically for restrictive or challenging applications such as food and beverage, academic teaching labs, environmental studies, medical, pharmaceutical, agriculture, and petrochemical.
With a replaceable reference electrode for meter longevity, the miniLab provides a lower lifetime cost. All miniLab meters offer water-resistant operation, automatic temperature compensation and economical measurement of small sample volumes. Three different miniLab models are available, providing 1-, 2- or 3-point calibration, temperature display, and pH resolution up to 0.01 pH.
The miniLab meter uses ISFET sensor technology that contains several proprietary layers deposited selectively on a silicon chip substrate. The final layer possesses an affinity for hydrogen ions only. The quantity of hydrogen ions at or near the sensor surface causes an electrical effect that is detected and measured as pH.
---