Enhanced Aspiration & Dispense Monitoring
Product Announcement from Hamilton Co.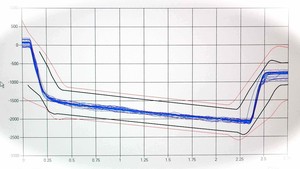 Hamilton Robotics announces increased functionality for its unique TADM (Total Aspiration and Dispense Monitoring) capability through a new version of Lab Analyzer™ software from Apartis Information Management, Inc. TADM and Lab Analyzer are also now offered in a cost-saving bundled package.
In combination, TADM and Lab Analyzer v1.3 provide a range of tools and data accessibility that enable the user to monitor, analyze, document and even correct aspiration and dispensing steps on Hamilton's MICROLAB® STAR and STARlet liquid handling workstations.

The software package monitors all pipetting steps and displays TADM curves in real time. Pipetting pressure and associated warning or "guard" bands are shown in graphical, easy-to-interpret formats, enabling the user to quickly confirm accurate aspiration and dispense for each sample plate well. New software enhancements include easier-to-use interface, more statistical tools, new data storage and retrieval functions and increased flexibility in applying upper and lower limits. Lab Analyzer v1.3 enables visualization and analysis of stored historic curves through the Hamilton VENUS software.
The TADM Lab Analyzer software package is ideal for IVD, forensic and pharmaceutical laboratories and other regulated settings because it provides a traceable digital audit trail documenting that a sample has been successfully transferred. TADM data supports chain-of-custody procedures by enabling the user to document all processed samples and data. This is especially important when samples may ultimately be introduced as evidence in a trial.

"Our TADM technology is a unique tool as the only air displacement pipetting pressure monitoring available today," comments Rick Luedke, marketing manager for Hamilton Robotics. "The Lab Analyzer software from Apartis enriches the use of this technology with real-time curve displays for each channel. The new bundled package delivers even more functionality and ease-of-use at a lower price."

Apartis Information Management Inc. specializes in integrated software solutions for life science equipment automation. The company's offerings include customized solutions for data mining and management, user interfaces, FDA compliance and quality control tools, system integration and workflow management. www.apartis.com
You have successfully added from to your part list.
---