High Temperature Thermocouples
Product Announcement from HARCO, LLC.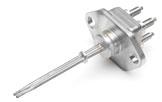 Thermocouple assemblies are available with an exposed junction for quick response time, an enclosed insulated junction for exhaust gas environments and replaceable element probes with a separate protective body and gas sampling ports. Rugged construction assures low life cycle cost and high reliability. They may be designed for averaging or individual multiple depth sensing. Characteristics include standard thermocouple alloy stud and nut output terminals and hermetically sealed connector or flexible leads. They are available in standard or custom thermocouple configurations and calibrations.
Associated high-temperature cable and connector designs are capable of operating up to 2000°F with consistent results. Their conductors are available in thermocouple alloys, nickel-plated copper alloy, optical fibers, or in any combination of these materials. Insulation materials are non-asbestos and perform in extreme temperatures. Outer metallic braids of stainless steel, nickel, or inconel can be applied to cables for enhanced abrasion protection.
Temperature Applications
Exhaust Gas
Power Turbine
Compressor Discharge
Brake Systems
Bleed Air
Bearings
Lube / Hydraulic Oil
Fuel / Inlet Air
T2, T2.95, T3 Stations
T4, T4.7 Stations
---