Carbon Fiber Slot Furnaces
Product Announcement from Harper International Corporation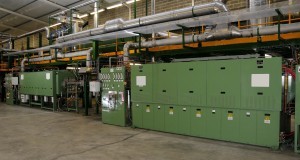 Harper is the industry standard choice in continuous furnace technologies for the Carbon Fiber industry. Our involvement in Carbon Fiber began at the market's inception in the 1970s, and since then we have been helping fiber manufacturers achieve new and ever greater heights with our continual evolution of design innovations.
Harper tailors each design to the customer's requirements, considering the best possible solution for your needs in terms of element and muffle design, materials platform, and atmospheric considerations to avoid plasma generation for the desired line rates and tow sizes. Our experiences spans a variety of precursors including PAN, pitch, lignin, polyethylene, and rayon in tow, nonwoven mat, or discontinuous, loose fiber form. We also have the unique capability to offer true complete soluytions with thoughtful gas treatment and handling systems and integrated control systems. Additionally, Harper is one of few in the market who push the boundaries of technology in offering Ultra High Temperature furnace rated to 3000°C.
Harper Slot Furnace Design Enhancements
Unique end seal design delivers excellent process gas flow uniformity
Strategic heating element placement to achieve optimal temperature uniformity
Advanced insulation designs reducing energy consumption
Inboard and outboard louvers used to minimize ingress of air
Proven atmosphere purge chambers designs
Harper Slot Furnace Capabilities
Unique atmospheres (argon, nitrogen, CO2, steam)
Vertical or Horizontal configurations
Multiple independently controlled temperature zones (length and width)
Highly uniform temperature across the towband
Designed to facilitate service and maintenance activities
Modular designs minimizing field installation effort
Harper offers specific LT, HT and unique UHT furnace designs for the production of Carbon Fibers:
Harper LT Furnaces
Electric or Fuel Fired
Temperature to 1200°C
Ceramic fiber based insulation
Nitrogen preheating
Vent heat tracing
Large capacities (up to 4 meters)
Harper HT & UHT Furnaces
Electric Fired
Temperature to 3000°C
Materials platform - graphite based
Large capacities (widths up to 4 meters; heated lengths to 15 meters)
You have successfully added from to your part list.
---