Furnaces for Specialty Atmospheres
Product Announcement from Harper International Corporation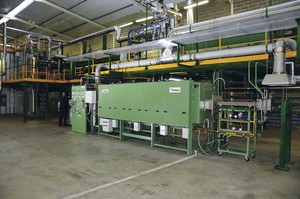 With over 90 years of experience, Harper is known worldwide for the most innovative, customized thermal processing systems, with a focus on processing materials at high temperatures and in non-ambient atmospheres. Our highly specialized, multi-talented group of employees use our exceptional depth and breadth of knowledge to craft the best-engineered technology solution for our customers' unique atmospheric needs.
Harper incorporates design features to deliver exceptional system performance, such as our patented advanced sealing system for our popular Rotary furnaces. This sealing system provides optimal rotary tube furnace atmosphere integrity with minimal gas consumption. Overall, we consider precise control of temperature, process atmosphere, material flow, and residence time to ensure consistent and uniform material production.
Harper's expertise covers controlled atmospheres including flammables and toxic gases - hydrogen, nitrogen, air, oxygen, ethylene, methane, CO2, CO, and chlorine gas. Harper thermal systems include gas-solid or solid-solid reactors providing calcination, graphitization, carburization, controlled oxidation, reduction, purification, pyrolysis, drying, metalizing, debinding, waste remediation, and more.
Harper approaches the design of a rotary furnace and calciner as a complete system, with the ability to incorporate process control systems, gas treatment and handling, turnkey installation and complete field commissioning. Field service can incorporate control instrumentation integration and programming as well as process engineering optimization and support.
To learn more, contact us today.
---